How can any country be this beautiful? Barbados is heavenly, and even though I have visited more than 20 times, I feel the same each time.  Barbados has it all. Gorgeous beaches, great culture, amazing beauty and the thing dearest to my heart fabulous food and restaurants.  Food is an enormously important part of any vacation, and the Bajans do it well.  In fact, I would go so far as to say, Barbados has some of the best and most beautiful ocean side restaurants on the planet. The cuisine is an eclectic mix with influences from around the globe such as spicy creole, French, Indian, African and British.
We visit some of the best Barbados restaurants as well as some of the best down to earth local hideaways and rum shops during our recent villa inspection trip. On your journey with us, you will get a balance between elegant, upscale dining and local eateries where you can experience fine dining and real Bajan culture and atmosphere. Then there is "in-villa dining" at some of the top villas in Barbados. We hope our guide will help you experience the best food in Barbados and will assist you in having the best culinary experience while you are on the island.
The restaurants in Barbados just keep getting better and better and dining out is one of the best things to do in Barbados.
---
The Best Restaurants in Barbados
Here are, in no particular order, the restaurants in Barbados that i consider to be the best.
---
Treasure Beach
If you are staying in one of the villas on Paynes Bay such as Smugglers, La Mirage Old Trees or Coral Cove Penthouse, I highly recommend lunch at Treasure Beach.  It is located right next door, and the food is amazing.
I had the seared tuna salad, the coconut prawns and the confit of duck tacos.  They are all equally delicious.
I cannot recommend it highly enough.
Treasure Beach, Treasure Beach Hotel, Paynes Bay, West Coast, Tel + 246 419 4200
---
Il Tempio
Il Tempio is one of the iconic restaurants in Barbados.  It originally came to fame when Luciano Pavarotti named it the best Italian restaurant on the island of Barbados.  It has a beautiful beachside location in Fitts Village on the west coast. The homemade pasta is to die for, and I can highly recommend it.
Some of my personal favourites are the Capunti Allo Scoglio with shrimp and calamari in a delicious garlic cherry tomato sauce and the Ravioloni Alla Sorrentina which is stuffed with ricotta cheese and asparagus.
Il Tempio
Fitts Village
St James

Barbados
---
Bajan Blue
The Bajan night at the Bajan Blue Restaurant is one of my personal favourites and is a must for every visit to the island.  It takes place every Tuesday and my advice is to book well in advance and ask for one of the ocean side tables.  The food is buffet style, and the choice is incredible.
Make sure you arrive very hungry so that you can take advantage of all the amazing choices. The best part of the evening is after the buffet as your dinner is followed by live music with local dancers which is very entertaining.
Bajan Blue, Sandy Lane Hotel Restaurant, St James, West Coast.  Tel + 246 444 2000
---
Coral Reef Club
The Coral Reef Club is one of the oldest and one of the most beautiful hotels on the island of Barbados.
Its architecture is quite West Indian colonial style, but the atmosphere has a lovely refined English feel. The main restaurant is located right on the water, and the head chef whose name is Jance Bannisere leads a team to produce some of the best food in Barbados.
The menu is interesting and imaginative. My favourite dish was the pan-fried fillet of local snapper with spinach and plantain.  The Snapper was so fresh I wouldn't be surprised if it was caught that morning.
Many of the locals I spoke to also mentioned the Sunday Brunch buffet saying it was amazing.  I have yet to try it and will do so on my next trip.
---
The Tides Restaurant
We had the Tides Seafood Tower for 2 people.  It was a feast of poached lobster, King Crab, mussels, smoked salmon, jumbo shrimp and oysters served with a trio of delicious dips the best of which was the spicy bloody Mary sauce.  For the main course, the seared yellowfin tuna was delicious.
The Tides Restaurant, Balmore House, Holetown, St James, West Coast Tel + 246 432 8356
---
Sea Shed
At night time the restaurant is lit up with gas lanterns which makes for a very romantic setting.
My favourite dishes were the local line-caught Mahi Mahi, blackened with seasonal vegetable and the medley of Chargrilled Octopus, Prawns, Mussels, Clams, Pickled Anchovies, Lemon Oil, Cherry Tomato and Arugula…Yum!
The Sea Shed, Mullins Beach, Saint Peters, West Coast, Barbados Tel + 246 572-5111
---
Cariba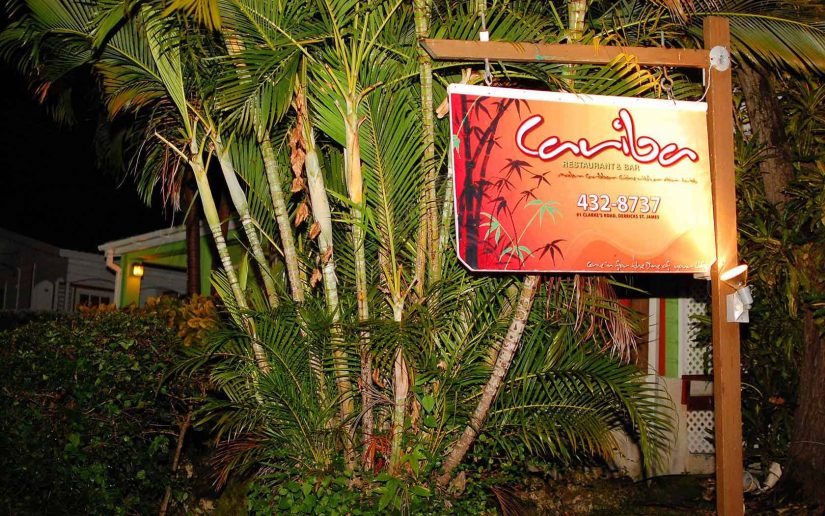 The head chef Glen Bent worked at the Sandy Lane Hotel before which is a pretty good training ground. The food is a blend of local Caribbean flavours with an Asian twist.
I had the Panko Crusted Crab Cakes and the Five Spice Chicken, and they were both delicious.
Cariba, 1 St Clarkes Gap, Derricks, St James, West Coast, Barbados Tel + 246 432 8737
---
Cin Cin
Cin Cin is located at the southern end of the West Coast in Fitt's Village. It sounds far away, but it is not much more than a 5-minute drive from Holetown.  It is probably the most contemporary of the ocean side restaurants.
They have a fabulous terrace which I love as you can eat your meal to the sounds of the tree frogs and the waves lapping just a couple of feet away.  But, there is also a very nice air-conditioned section you can dine in if the tropical heat is too much for you.
I chose the Jumbo Lump Crab Cakes and the Moroccan Spices Rack of Lamb.
Cin Cin, Prospect, St James, West Coast, Barbados.  Tel +246 424 4557
---
Champers Restaurant
Champers has a stunning waterside setting whether you decide on lunch with panoramic sea views or dinner at night-time when it's majestically lit up. A waterside table is a real treat & you almost feel as though you're on board a ship!
There's a great ambiance, and the food is really delicious & beautifully presented. There's a lovely area with couches to enjoy a pre-dinner cocktail & the beautiful sunsets.
Champers Restaurant, Skeetes Hill, Christ Church, South Coast, Barbados Tel + 246 434 3463
---
The Cliff Restaurant is not a cheap night out, but if you want to have a special experience while dining in Barbados, then the Cliff never disappoints.  If you love the Cliff and want to stay close by the beautiful Sandycove Penthouse is right next door!
The Cliff, Derricks, St James, West Coast Tel + 236 233 5869
---
Fusion Rooftop
No restaurant in Barbados does a welcome as well as at the Fusion Rooftop Restaurant.  The restaurant is located at the top of the Limegrove Shopping centre in Holetown and not an obvious place to find one of Barbados's best restaurants.   The second the lift doors opened, we were welcomed by the beautiful smiling host.  The interior is super cool and very chic and Feng Shui.  You could be in London, New York or Miami with one big exception; the gorgeous tropical warmth that envelops you as you are eating delicious food.  The cuisine is mainly Asian with a hint of Caribbean flavour!
We had the crab and shrimp sushi rolls, the Piri Piri shrimp which was served with an avocado mouse and spicy pickled radishes. The main course was the catch of the day which was with cassava tempura and toasted spices.  For dessert, we had something I can never resist when it is on a menu, the chocolate fondant.  Each course was truly delicious and served by lovely smiling people!
Fusion is where you will find some of the best food in Barbados, and I can highly recommend it.
Fusion Rooftop, Limegrove Lifestyle Centre, Holetown, St James, West Coast, Tel + 346 271 1258
---
La Cabane
La Cabane in Batts Rock is a new and very trendy addition to the Barbados lunch scene.  It has great south of France vibe, so it didn't surprise me one bit when the owner said he is originally from St Tropez. The restaurant is relaxed and a popular local hang out.  In fact, I think we were the only non-locals there.
We had the half chicken, a lovely salad and French fries all washed down with a local rum punch! If you're interested in the rum punch check out my guide to Barbados rum shacks
Make sure you bring your towel, so you can go for a lovely swim on Batts Rock beach which is just gorgeous. No need to wear shoes!
If you miss lunch, head down for sunset drinks.  It is one of the best spots on the island to enjoy a gorgeous Barbados sunset.
La Cabane, Batts Rock, St James, West Coast Tel + 246 256 2131
---
Lone Star Restaurant
This is a restaurant I recommend you visit for lunch and dinner if you possibly can.  The views during the day are simply breathtaking, and the beach at Lone Star is gorgeous so bring your towel.  At nighttime, the ambiance is extremely romantic with lots of candlelight and the sounds of the sea lapping a couple of meters away from your feet.
The food is an interesting combination of English and Caribbean. This is where you will find some of the best food in Barbados.
I recommend you go early to enjoy the lovely Lone Star bar area.  An ice-cold glass of champagne or a gin and tonic seems to always taste better in the tropical heat.  Some of my favourite dishes from the menu are the Shredded Aromatic Duck, the prawn Thai Green Curry and the Crispy Coconut Prawns.
Lone Star Restaurant, Mount Standfast, St James, West Coast Tel +236 629 0599
---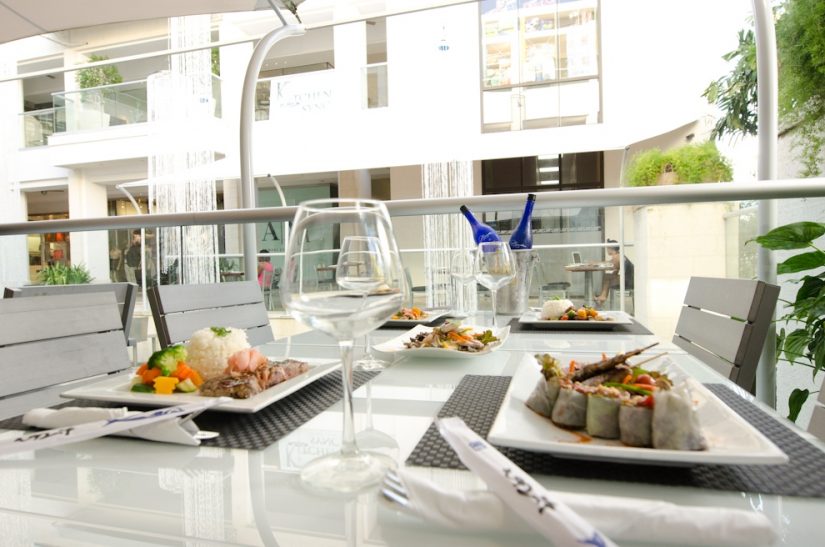 As the name might suggest, the food is of Asian origin, and the kitchen team are all trained by authentic Thai Chefs.  I had the Bai Gai Grapow which is a spicy mixture of seafood including shrimp, mahi-mahi, scallops, and lots of fresh vegetables.
Our island colleagues had the Phad Thai and the warm chicken and Mandarin salad which all looked delicious.
Lemongrass Noodle Bar and Grill, Limegrove Lifestyle Centre, Holetown, St James, West Coast Tel + 246 271 8265
---
Ju Ju's Beach Bar
Ju Ju's is a lovely small beach bar located next door to the Lone Star Restaurant. It is extremely casual and relaxed and great value.
There are no menus, just a chalkboard. The food is tasty and reasonably priced.
They also do a great rum punch and Mango Daiquiri. If you get too, hot, you can have a cooling dip in the sea.  They don't mind if you are in swimsuits and are dripping wet. We recommend it for a sundowner tool
Ju Ju's Beach Bar, Hwy 1B, Mount Standfast, West Coast, Barbados Tel + 246 268 6093
---
Lobster Alive
Every lobster lover should visit Lobster Alive at least once while in Barbados. Most of the lobsters are no longer caught locally but in the nearby Grenadines. They are flown in by a private aircraft to the huge lobster tank in the restaurant from where you can choose your lunch!   The tank is quite a site during the high season as there can be between 2000 and 3000 pounds of lobster in it.  The restaurant is very relaxed with tables in the sand located on the best beach in Bridgetown.
I like to visit at lunchtime, but if you love jazz, they have a resident jazz artist called Stu Jenkins in the evenings.  If you don't feel like driving, it is possible to take a water taxi from many of the hotels and larger villas.
Lobster Alive, Wesley House, Bay Street, Bridgetown, St Michael Tel _ 246 435 0305
---
---
The Cliff Beach Club
The Fish Pot is a great option for both lunch and dinner and is one of the best value oceanfront restaurants in Barbados. The Grilled Tandoori Chicken Taco and the Ahi Tuna Poke were both delicious.
The Fish Pot, Little Good Harbour, Shermans, St Lucy, + 246 439 2604
---
Relish Epicurea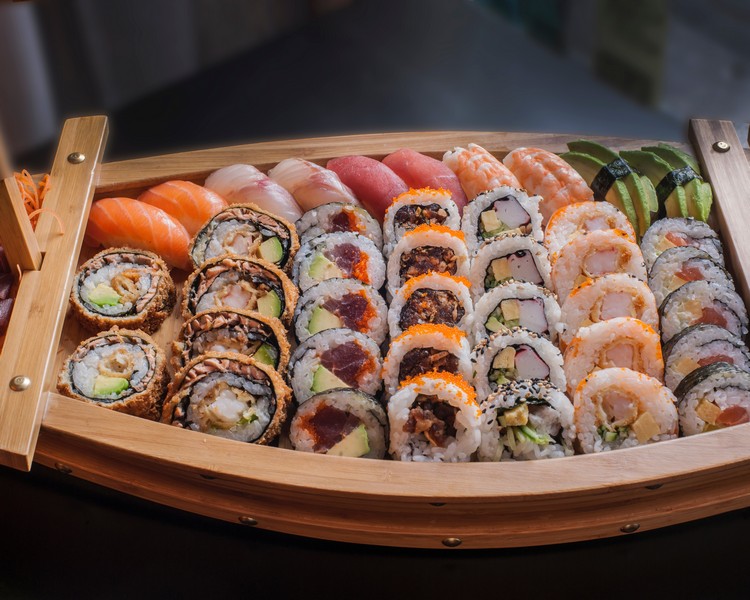 L'Acajou
L'Acajou is the fine dining restaurant of the famous Sandy Lane Hotel.  If you fancy a very special night out, then this is a great option.  It is extremely romantic with slightly elevated views of the ocean and offers a balance between modern, classical and contemporary cuisine.
The Miso Marinated Atlantic Black Cod with green asparagus and a truffle vinaigrette is delicious.  If you like Duck, then the Crispy Leg Confit is delicious.
---
Nikki Beach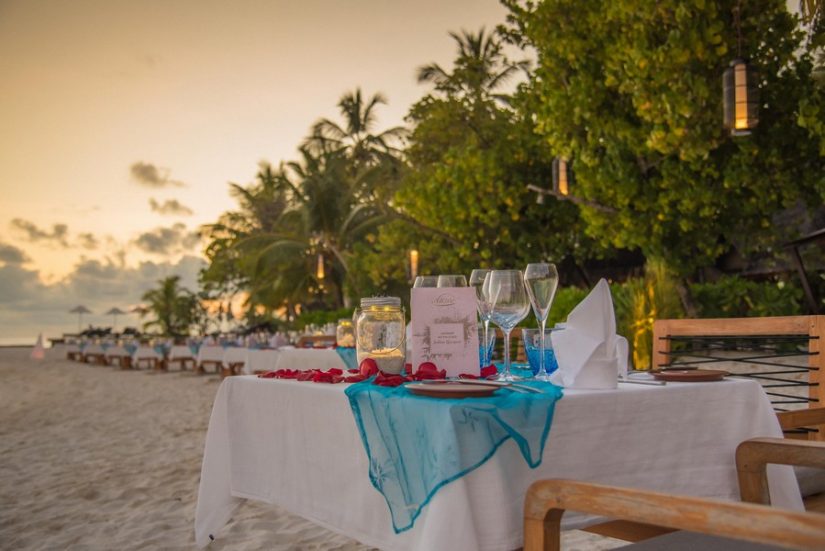 About Alexandra Baradi
Alexandra Baradi is founder and owner of Exceptional Villas. She set the company up in 1992. Alexandra is a hotel manager by background and is absolutely passionate about travel.