Whenever I go to a new country to inspect our exceptional villas, I always look forward to visiting and experiencing the attractions and activities which you will see mentioned in all of the guide books.  But what excites me most is the thought of visiting the less talked about places and making my discoveries.
On a recent visit to Grand Cayman, Emma and I had great fun exploring the island.
When driving to our Grand Cayman villas, we usually turned off the main roads and, more often than not, would find ourselves in a perfect scenic spot, void of tourists, crowds of people, and definitely off the beaten track.
---
Stingray City
The day after our arrival, we took a much talked about snorkeling trip to Stingray City.
We joined a group with Captain Marvin's boat and enjoyed a three-stop tour, including some time snorkeling and swimming among the stingrays, such beautiful, friendly, gracious creatures.
It was a nice size small group, and we didn't at any time feel overwhelmed by hordes of people either on the boat itself or in the water at any of the stops. Swimming with Stingrays in Grand Cayman should be on every visitor's bucket list.
---
No Cayman Villas That Sunday
Sunday was a day off from inspecting our Cayman Villas.
In Caymanian culture, Sundays traditionally consisted of the church, rest, food and family time. Families gathered on a Sunday to attend a lively and joyful church services, followed by a meal then games and music. They also loved to sit on their porches 'shooting the breeze' and watching the comings and goings around them.
I was eager to experience this age old tradition, so Emma and I began our day by attending Sunday service at the Elmslie Presbyterian Church where we were genuinely humbled by the warm welcome bestowed on us by the congregation.
It was a unique experience for us to be part of such a service and we thoroughly enjoyed the heartfelt singing and happy atmosphere.
---
The Heritage Kitchen
Following the Church service, we took a leisurely drive along the South Sound Road on the south westerly part of the island, taking in the different neighborhoods along the way.  As lunchtime approached, we turned north toward West Bay and Boggy Sand Road.  I had read about The Heritage Kitchen, a rustic fish fry shack favored by locals, covered by corrugated iron, serving up delicious fresh seafood and traditional Caymanian fare; and one of the many splendid Grand Cayman Restaurants.
We checked out the daily specials on the blackboard menu and ordered our food from a friendly lady at the counter.   We then took a seat at the communal benches to the side of the shack, where we were entertained by several friendly cockerels who seemed to vie with each other over who would come closest to us.
Our food was delivered on paper plates heaped high with fresher than fresh fish, barbecue ribs, dirty rice, corn on the cob and potato salad.  Just delicious.  Heritage Kitchen is as authentic an island dining experience as you can get – no fuss, delicious simply cooked food, smiling faces and an ocean view.
We left the Heritage Kitchen feeling pleasantly full and vowing to return.  We climbed into our rental car and continued our tour of the island, happily driving along, feeling grateful to be in such a heavenly place, until we arrived in…………. Hell!
---
Welcome to Hell!
Hell is a small patch of ground no bigger than a soccer field, made up of rough, black limestone formations, created by salt and lime deposits over 24 million years.
How this place got its' name is debatable.
Some say that the locals likened the landscape to that of Hell itself, while others argue that a British general hunting in the area missed a shot and exclaimed "Oh Hell!"
Either way, it's a comical place to visit.
There is even a Post Office from where you can send friends and relatives Postcards from Hell.
Since Emma and I were there on a Sunday, we missed seeing the devil himself roaming around (a regular occurrence on other days apparently) and the gift shop was sadly closed, but on the upside, we were there at a quiet time and we had Hell all to ourselves.
---
Goodbye Hell
On leaving Hell, we drove further north to Barkers, the site of a 14-acre bird sanctuary, home to numerous migrant birds including ducks and white egrets.
We look a leisurely drive back to our beautiful Cayman Villa at The Caribbean Club to reflect on a day that saw us both in Heaven and Hell, and still alive to tell the tale 😊
We were lucky enough to make another fantastic discovery on this trip.
---
The Cayman Wine Boutique
The Cayman Wine Boutique is conveniently located across the road from The Caribbean Club on Seven Mile Beach.   We stumbled upon this welcoming little spot while out for an evening stroll.
The owners Mario & David welcomed us in as if we were old friends and here we spent a couple of delightful hours tasting the most delicious wines.  Mario & David offer more than just bottles of wine for sale.
For groups of any size, the Cayman Wine Boutique offers wine tasting and dining experiences either casually standing or seated at a rustic hardwood table.
The handpicked collection of wines available here are quite simply superb.
---
Don't Sit on The Frog!
On a drive back from visiting some of our Cayman Villas located on the East of the island, we popped into the Queen Elizabeth II Botanic Park.
Here, we enjoyed a leisurely stroll through stunning floral gardens and nature displays.  The highlight of the visit was the opportunity to see the Cayman Blue Iguana breeding ground.  These incredibly majestic yet cute animals were a joy to behold and provided much entertainment.
On our way out, I captured this amusing photo of a colorful little frog chilling out on a chair.
We enjoyed a nightly moonlit swim in the warm, calm waters of The Caribbean Ocean.  It truly was an experience to be able to walk from our Villa down to the edge of Seven Mile Beach and wade into the sea, surrounded by such serenity.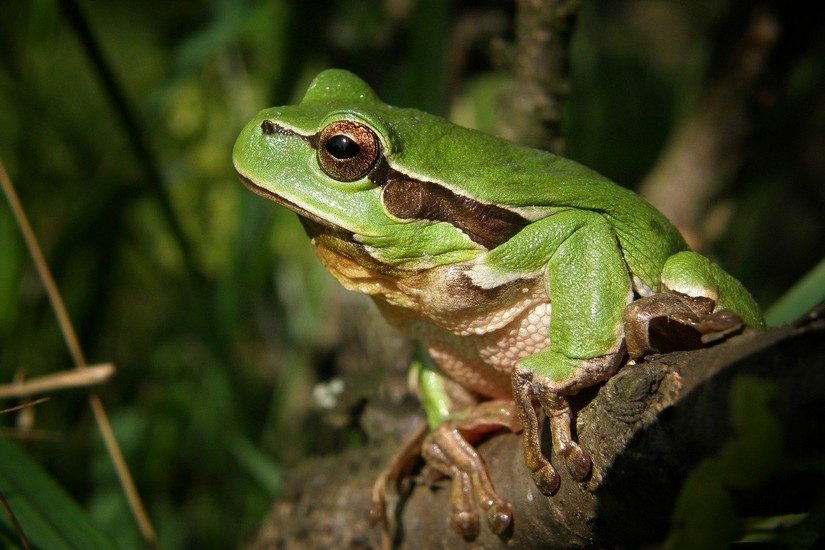 ---
Conclusion
Grand Cayman is a beautiful island to visit for many reasons – relaxing, exciting and fun.  There are also some wonderful Cayman Villas to choose from.
I love to hear from you so please leave a comment.  Let us know which is your favorite Villa?  Or what is your favorite thing to do on the island?
If you have any questions, email me anytime on [email protected]  or to contact us by phone Click Here for Details