I'm going to live forever!  So far, so good!  Well, that's generally my quip when I hear people discussing cool bucket list ideas and their looming mortality.  I mean, who really wants to dwell on a time when we are going to shuffle off this mortal coil?  Not I!  In fact, while we are on the subject, I get really irritated by those irresponsible bumper stickers with slogans like "Live Every Day as though it was your Last!".  Really?  These ludicrous slogans encourage a complete lack of forward planning.  I am all for a bit of spontaneity but not at the expense of my future comforts.
Get that dull pension organised, buy a home, take reasonable care of your health, invest emotionally in the good people in your life and gentle release the less deserving from your inner circle.  In other words, live a full life each day but work on the basis that one good day will follow another until you are at least 80 years old.  Truly, if I believed I had a mere 24 hours left on the planet I would probably retreat to the sofa with my dogs and a stiff drink and embrace eternity with stoic calm.  I wouldn't be thinking about some of the madcap activities that fall into the category of unique bucket list ideas.
---
Bucket List Ideas
Bucket lists are apparently drawn up by people who get excited by list-making.  Unlike the useful lists that include things like "Worm the dog", "Vacuum under the bed", "Buy Milk", the things to put on a bucket list can vary from "Swim with sharks", "Learn to Tango" to "Get Married".  Is there a value in setting these types of targets?  I'm not so sure.
Goal setting is the backbone of any success in life.  This I believe to be true.  So, for instance, if you are keen to set up your own business eg. A bakery in some pretty town, your goals should involve learning to bake (naturally!), understand basic accounting, do a marketing course etc etc.  All of these mini-goals will ultimately lead you to give your main goal a chance of succeeding.
Bucket list items to me feel like random experiences that an individual wish to have for the sake of saying "I've done that now!"  Is that fulfilling?  I think a lot of the impetus behind these bucket lists and their fulfilment is to do with people wishing to create social media imagery that makes them look as though they are having 'full lives'.  It would be a lie to say I am not old school.  I believe if you are taking a picture of the moment you are no longer in the moment.  If you are truly transported by a magical Caribbean sunset the last thing, you'll be doing is trying to capture it on your phone.
With this in mind, I am going to give you a list of Holiday Goals that I try faithfully to fulfil each time I travel.  I might call them cool bucket list ideas in keeping with this blog.   In reality, though, I think they sit outside of this frame of reference as being a bit bigger than that box-checking exercise that most travel bucket lists entail.
---
The "Sensational" List!
1. Taste Sensation
Top of the list for me is food.  It's a basic need in life but doesn't have to be basic!  Rule one is always try the local dish.  I know that some local delicacies can challenge a conservative palate but do at least try a mere morsel of something so you can faithfully say "I tried it but it's not for me".
I am adventurous when it comes to food.  I've had tripe in Florence, lamb's brain in the Middle East, snails in France (admittedly, if you smother anything in garlic and butter it's not too hard to try it), jellied eel in London's East End.  It doesn't all have to sound like some bush-tucker challenge though.
Why not grab a slice of mouth-watering pizza in Italy?  How about some spicy Jamaican Beef Pattie?  Barbadian Cou Cou or Fungie in Antigua?
The beauty of all local cuisines is that it harnesses the very best of locally grown and sourced meat, fish, fruit and vegetables.
You will rarely find me at some Asian Fusion restaurant in the Caribbean or a Sushi bar in some Italian city.  Why divert one's taste buds from the truly pleasurable experience of eating what's locally best.
And the reason you know it's the best?  Well, we've all tried international cuisines away from their home base.  Who hasn't enjoyed saying jerk chicken in some European or American urban setting only to taste the authentic version later in the Caribbean?
A fish taco in Chicago that might taste delicious is a poor relation to the glorious one you can enjoy in Cabo.  It's not just the flavour or texture of the perfect food, it's to do with the mesmerising views, the welcoming locals – essentially, everything that brings the full food and fun experience together.
To really capture this food sensation, a fabulous luxury villa with your own chef or cook who creates local dishes tweaked to suit your palate (easy on the spice or heavy on the sauces!) can be the perfect answer.
At Exceptional Villas, we can stock your pantry with the very best of local supplies so you can barbecue or snack as you wish or just leave it all to your wonderful villa staff.  Each day is just one perfect meal after another – from that wonderful morning coffee, through barefoot lunches in your swimsuits to a romantic picnic on a beach … Exceptional Villas' concierge team can build all of this into your vacation.
2. Touch Sensation
Swimming in the rain in one of my favourite pass-times.  I never understand why people pack up and leave a beach when it rains.  I mean, if you are going to go swimming, you'll be wet anyway.  Obviously, there's the one exception and that is 'Don't go swimming in thunderstorms" – lightening and water are a bad combination!
One of the magical experiences to have on any vacation is to swim under a waterfall or just stand there and let nature just wash over you.  My number one choice for this has to be Wailua Falls on Kauai in Hawaii.
In fact, there a quite a number of incredible waterfalls to be hiked to on this fabulous island.  Do take a guide with you so that you not only hike the correct routes but that you understand how to engage safely with the falls.
You may feel like you are part of a shampoo commercial as you swish your hair with the stunning falls creating the perfect backdrop.  It's a sensation not to be missed.
3. Sound Sensation
Birdsong or jungle chatter is my number two favourite sound when I am on vacation.  Costa Rica is alive with the thrilling sounds of wild nature and should be a definite bucket list travel destination.
There are many wonderful places to visit and to stay in Costa Rica. The cadence of these sounds is so unlike anything one hears in Northern Europe it is quite thrilling.   The sounds of running water or a lively surf are always on my favourite list but what's my number one favourite holiday sound?  Silence!
It's that rich sound of nothing … no phones, cars or voices.  It signifies that I have found a place of transcendence in an over-connected world.  Do these places exist?  Absolutely.
Check out any of the deserted atolls around The Bahamas or on a trail halfway up the Pitons in St Lucia you might find that sense of managed isolation.  Out at sea on an anchored boat off the shores of Turks and Caicos is definitely another wonderful option or swimming in a deserted cenote in Mexico certainly counts too.
4. Viewing Sensation
The ubiquitous beach sunsets never get tired of me.  It's important that I am somewhere rather still and private to fully appreciate them.  Saying that the terrace of a gorgeous bar or restaurant at sunset can work just as well.  Sipping a cocktail at the Villa San Pietro in Positano looking westwards over the Tyrrhenian Sea is one of the highlights of things worth seeing.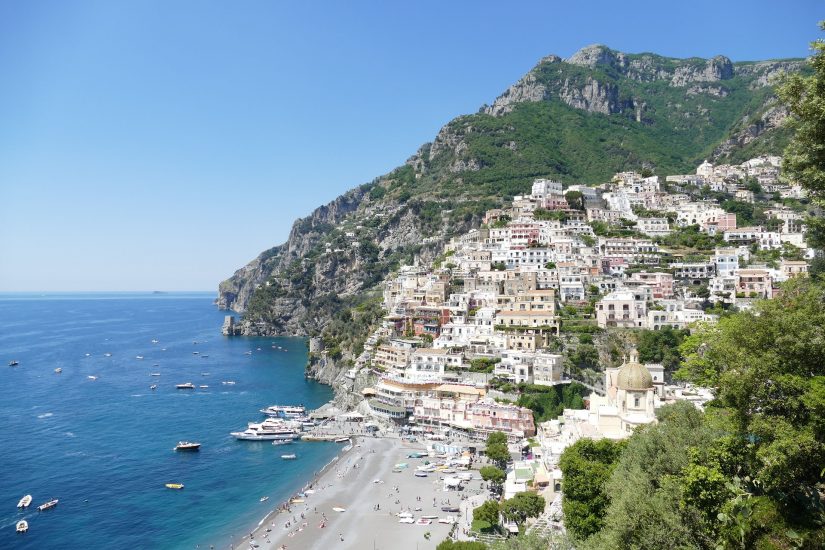 Stick a pin in any of the incredible Caribbean islands and there's a beach or villa terrace facing westwards that will offer you night after night of peachy mauve sunsets.
5. Emotional Sensation
This category for me is the most meaningful.  It involves being with the right people.  Some of the happiest and most memorable bucket list travel I've taken has involved spending time with friends that I love.  I recall a very dusty hike up a mountain in Italy where my best friend and I got lost.  Hot and bothered we eventually got onto the dusty trail back to our hotel.  It is still for us one of the happiest memories of trips taken living up to one bumper sticker that does resonate with me:  "It's not the destination it's the journey!"
If there's only one thing of value that I would really love you to take from this blog it would be "travel with those you love".  Spend your downtime lounging by pools, jumping under waterfalls, swimming with sharks … whatever travel bucket list ideas of a madcap or mundane nature you cook up, take someone you love along with you on the journey.
Life is about loving connections. These are the final testaments to a life well-lived.
Even if you never upload a photograph of the day you and your darling husband spent a hot but humorous hour on a roadside changing a flat tyre or bonded with your bestie over a cocktail on your private villa terrace, it's the times we've shared with the people who mean most to us in the world that make our world go round.  These are usually the special people who will be with us when we decide to kick any bucket.
So, bring them along for the ride along the way. You don't even have to go far as many places can be reached without even bringing a passport. Think of all the incredible memories and jokes you can share as you embark on that final journey, exploring new territories in the here-after, waiting for them to catch up!
---
Conclusion
So, for all of you folk sharing those tedious lists on social media that start with statements like "Dance like no one is watching!", please take me off your circulation list.  My idea of things to put on your bucket list and travel bucket list involves taking the long view.
I am excited about a planned trip to some divine destination in the Caribbean that's linked with mastering some heavenly water-based activity.
As well, booking a cooking class in a rustic villa in Tuscany feels like a brilliant idea alongside painting with watercolours voyage of discovery around the Amalfi coast. Each of these delightful journeys is not just boxes to be ticked in some frenzied fashion.  They are all delicate and tantalising blooms that together form a fragrant bouquet called life.
The real objective is to intuitively choose those destinations that attract you, build wonderful experiences into your trip and never be afraid to return to somewhere again and again.
It does seem that travellers who are caught up in the 'been there / done that' way of life tend to avoid returning to some of their bucket list trips. Regardless of how tiny a destination island may be (St Barts or Santorini) or how much you squeeze into that action-packed week in Greece or Grenada, there's always something that's left undone.
And even the pleasure and relaxation that comes in retracing your sandy footprints along a great beach a decade later is not to be dismissed.  Some destinations might start out as one of your bucket list destinations but ultimately becomes an old friend that welcomes you to its gorgeous shores again and again.
Exceptional Villas build holidays of a lifetime for individuals, families and groups. We understand how to match you to the trip of your dreams. If you are unsure about where to go, simply call us and give us your list of requirements.
Then allow us to introduce you to a destination filled with experiences that will thrill all of your senses. We've decades of experience creating the happiest of memories for our wonderful clients. From the moment you reach out to us, we can take the burden of responsibility from your shoulders.
We will devise a bespoke and relaxed holiday tailor-made to suit all of your specific needs. Yes, it's as easy as it sounds. We are waiting for your call.
About Mairead Moriarty
Born and raised in Co Kerry, lived in London, New York, San Francisco, Dublin. Owner of one very battered suitcase, a well-worn passport and a million memories.
It seems very fitting for a travel writer that my surname translates as 'Skilled Navigator'. Apart from an occasion when, aged 3, I got lost in a Supermarket in Tralee, I have managed to live up to my name!
Curiosity is probably the driver that has sent me on magical mystery tours around the world. I want to 'feel' a place. I want all my senses to be engaged: from the history and geography that has influenced a country or city, the arts and achievements of its natives, anything and everything really.
Regardless of whether I am on a local train travelling through Morocco, or poking around in Marconi's study in Bologna or on a canal boat weaving through the heart of the English countryside, the same rules apply - ask questions, talk to locals, eat what they eat, sit quietly with nature and simply be.
Assimilate as much as is possible so as to understand the soul of a place. That is my passion. That is the compass by which I navigate.