Edith Wharton (American author) once said that "one of the great things about travel is that you find out how many good, kind people there are". Nothing could be truer, especially when you happen to be visiting a beautiful place where people are happy in their surroundings.
There can be nowhere more beautiful and therefore more happy, than a place where the sun is (almost) always shining, where you're surrounded by a colourful landscape – somewhere tropical.
---
There are so many tropical vacation destinations on this wonderful planet of ours and each has their own unique attraction. Here are a few of my favourites.
---
1. St Barts
French West Indies, Caribbean Sea
The tiny island of St Barts is one of the most tropical places in the world.  Measuring just ten square miles and surrounded by white sandy beaches and warm turquoise waters, St Barts is an island of incredible natural beauty.  Whatever your chosen criteria for your best tropical vacation spots, St Barts has everything.
It's no mystery why celebrities, models and socialites flock to this tropical paradise which perfectly blends the luxurious sophistication of St. Tropez with a laid-back Caribbean lifestyle.
In St. Barts you can be as low-key or well-heeled as you like – anything goes on this unique tropical island. Incredible restaurants, glamorous night-clubs, world-class shopping and oodles of activities add to the many reasons to vote St Barts as one of the best tropical places to travel.
Whilst there are no direct flights to St. Barts, getting there is all part of the tropical adventure and it's quite a simple process. The most exciting flight of my life was on the puddle jumper from St Maarten to St. Barts.  15 minutes of sheer excitement in the air and a landing on one of the shortest runways in the world.
Exceptional Villas represents the most luxurious of St Barts Villas.  As well as assisting in finding your perfect vacation home in St. Barts, your personal concierge will be on hand to make all of your required arrangements prior to arrival on the island.
When searching through your list of tropical getaways, do consider a visit to St Barts and if you do choose this island for your tropical vacation, be sure to ask your Exceptional concierge to book a table at Nikki Beach for Sunday lunch. Check out our Ultimate St Barts Travel guide
---
2. Jumby Bay Island
Antigua, Caribbean Sea
Jumby Bay is without doubt one of the world's best tropical places to vacation. This luxurious all-inclusive private island resort is located 2 miles off the northern coast of Antigua, reachable by boat only.  Jumby Bay is picture-perfect with snow white powdery beaches and swaying palm trees, lapped with turquoise calm waters.
From the moment you arrive at Antigua airport, it takes just another 15 minutes of travelling (5 minutes by road and about 7 by catamaran) to arrive in paradise.  There are blissfully no cars on Jumby Bay Island and your mode of transport will be a bicycle or a golf cart.
Your all-inclusive package covers all dining, drinks (including house champagne), water sports, resort facilities and activities.
Another reason to love Jumby Bay is its' commitment to ensure that the island remains an undisturbed, secluded tropical hideaway and to preserve its' natural beauty by conservation and sustainability programs.
Exceptional Villas is proud to include many stunning Jumby Bay Villas in our portfolio. You will experience one of the best tropical vacations of your lifetime on Jumby Bay.  You may also enjoy the best Rum Punch you've ever had, from the beach bar – I know that I did.
---
3. Barbados
Lesser Antilles, Caribbean Sea
Barbados is a small paradise island surrounded by the balmy Caribbean Sea on its' west coast and the wilder Atlantic on the East Coast. Due to its close proximity to the equator, Barbados has an almost-perfect climate all year round, making it another of the best tropical places to visit.
Barbados is by far one of the most popular Caribbean Islands to visit.
The beaches in Barbados are a form of tropical heaven with softer than soft powdery sands lapped by crystal clear turquoise waters and the sound of palm trees gently dancing in the sea breeze.
Barbados is also steeped in history with many incredible old Plantation Houses and significant Sugar Mills, Potteries, an Abbey and a Lighthouse – all well worth a visit. A Flower Forest will appeal to nature lovers and for the more active, a multitude of water sports are available on most beaches. And of course, then there's delicious Bajan food, combining the flavours of so many different cultures.
The capital of Barbados is Bridgetown, a lovely city with great duty-free shopping and colourful local markets.  The Bajans are wonderfully friendly people and exude a genuine and soulful warmth and welcome to all who visit their beloved island.  It's impossible not to fall in love with this tropical paradise.
Exceptional Villas features the most stunning Villas for rental in Barbados.  We look forward to assisting you in creating one of the best tropical getaways of your lifetime.  Sir Cliff Richard once said "And of course, Barbados is the other place where I like to be".  Me too Sir, me too!
---
4. Grand Cayman
Caribbean Sea
The beautiful island of Grand Cayman is the largest of the Cayman Islands and is another one of the worlds' best tropical vacation spots.  Beautiful sandy coral beaches, world-class diving, wonderful restaurants, nature reserves and duty-free shopping all add up to providing your perfect vacation on a paradise island.
The most beautiful beach on Grand Cayman is Seven Mile Beach, a long crescent of coral powdery sands and palm trees.  Despite being voted "The Caribbean's Best Beach" by Caribbean Travel & Life Magazine, Seven Mile Beach is notably uncrowded.  Numerous luxury resorts and hotels are located along the beach but are set back enough to never encroach on its' beauty. My favourite place to stay on Seven Mile Beach is without a doubt, The Caribbean Club, a genuine beachfront paradise.
Rum Point is another great place to stay or to visit. White soft sands, shallow crystal-clear waters, hammocks swinging from palm trees and a laid-back and slow-paced atmosphere make Rum Point one of the best tropical places to visit on the island.
Exceptional Villas features fabulous Grand Cayman Villas all over the island.  Our lucky team have stayed at them all and from my point of view, it's impossible to choose a favourite.  They are all stunning in their own way.  I have wonderful memories of each of my trips to Grand Cayman.  Swimming with Stingrays and watching a sunset on Seven Mile Beach are two of many. I love Grand Cayman – I know you will too.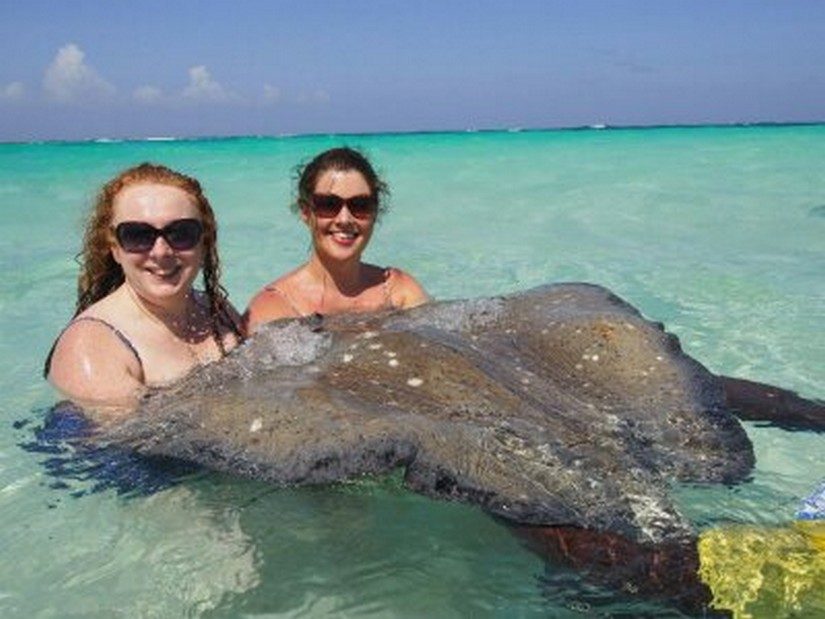 ---
5. Boracay Island
Philippines, South East Asia
There are over 7,500 tropical islands in the archipelagic country of the Philippines, located in the Pacific Ocean. How can one narrow it down to the best?  It's impossible!  I include Boracay on my list of best tropical vacations as I was lucky enough to go there on honeymoon – albeit somebody else's honeymoon.  (We're the sort of family who think nothing of inviting a bunch of family members along on the post-wedding ceremony vacation.)
Boracay was declared as being "The Best Island in The World" in 2012 by Travel & Leisure Magazine. Although being only 7km long and 2km wide, Boracay boasts 17 fabulous beaches.  The most popular is White Beach, 4km long with beautiful powdery white sand, picture perfect waters and lined with palm trees.
We stayed at a boutique hotel on the edge of White Beach and had dinner each night on the beach at a table adorned with tropical foliage and surrounded by fire pits. There was no menu, just dishes and dishes of barbequed fish, meats, and accompaniments.
We rode Tuk-tuks around the island, snorkelled off Ariel's Point, hiked through the jungle to visit a bat cave and spent an evening in a beach shack playing karaoke with the locals.  It truly was a magic experience that I will treasure always.
---
6. Harbour Island
The Bahamas, West Indies, Caribbean Sea
Harbour Island is a tiny tropical paradise island just a few miles north of Eleuthera in The Bahamas.  With pretty pink sandy beaches lapped by gentle warm waters, pastel painted quaint cottages, incredible villas, chic boutique hotels and remarkable restaurants, this gem is slowly but surely beginning to shine as the crown jewel of the Caribbean and is one of the best tropical places to vacation.
You can find some of the best Harbour Island Bahamas Rentals  here.
This lovely little island is just three miles long and a haven for anybody wishing to escape the chaotic routines of everyday living.  With less than 2,000 local inhabitants, Harbour Island never feels crowded and is an oasis for many celebrities who crave the anonymity which this island can offer.
There are (blissfully) no cars on Harbour Island – the only modes of transport are bicycles and golf carts.  The island is a genuine tropical oasis with breathtakingly beautiful beaches, blue skies and friendly, welcoming locals. Life here is incredibly laid back and I cannot think of a more relaxing place to escape for privacy and peace.
Though small in size, there is plenty to do, both in and out of the water.  There are great swimming, snorkelling and diving opportunities and of course you can also take a boat trip, or, if you prefer to keep your feet dry, take a walk through the colourful streets, order a cocktail and chat with the locals.
As with all the best tropical places to visit, Exceptional Villas represents some of the finest Harbour Island Rentals and throughout the Bahamas. Take a look and plan your trip of a lifetime in paradise.
---
7. Virgin Gorda
British Virgin Islands, Caribbean Sea
Measuring just over 8 square miles, this naturally beautiful island is a nautical haven with peaceful coves, yacht clubs, unspoilt secluded beaches, safe places to anchor and luxurious villas and resorts.  Virgin Gorda has the added attraction of enjoying tropical climates throughout the year.
Amusingly, Christopher Columbus came up with the name Virgin Gorda when he likened the shape of the island to a "Reclining Woman" or a "Fat Virgin" – the mind truly boggles!
Like so many of the best tropical places to vacation, Virgin Gorda ticks all the boxes offering beautiful sandy beaches, turquoise waters, nature sanctuaries, great fusion food and a rich cultural heritage.  The island features many natural attractions such as The Baths where a labyrinth of giant boulders form a series of pools and flooded grottoes.
Little Fort National Park used to be the site of a Spanish Fortress and now provides excellent hiking through dense vegetation and rugged terrain whilst another national park known as The Copper Mine claims to be the first place on earth where copper was first discovered.
Although Virgin Gorda is considered to be a little trickier to get to, the journey adds to your adventure, making it a more unique place to visit. Check out more of our Caribbean Vacations off the beaten track.
Exceptional Villas features many fabulous Virgin Gorda Villas and our team are on standby to assist you in creating your idyllic vacation in paradise.
---
8. Tamarindo
Costa Rica, Pacific Coast
Although not a tropical island, Tamarindo is a genuine tropical paradise on the coast of Costa Rica.  The area offers ideal climate almost all year round, beautiful white sandy beaches, turquoise waters, National Parks and plenty of outdoor activities.
Tamarindo is a surfer's paradise, where to the north, Playa Grande beach offers perfect surfing conditions.  Playa Grande is also a famous nesting area for turtles and from October till February, these beautiful creatures come ashore to lay their eggs. To the south of Tamarindo, you will find quieter beaches, perfect for swimming and relaxation.
Costa Rica is home to such adorable creatures as sloths and monkeys, where you can observe them in their natural habitat in the Tamarindo Wildlife Refuge.
Tamarindo is perhaps one of the least secluded of my chosen best tropical places to travel, and the town itself is busier and offers more night life than many of my other chosen destinations.  Though not in the category of dreamy tropical island, Tamarindo is most definitely a place to consider when deciding on your tropical destinations.
Take a look at the many superb Tamarindo Villas that Exceptional Villas has to offer and contact our Sales Team for further information on experiencing "Pura Vida" (pure life), a term used when describing the culture of Costa Rica.
---
Conclusion
Who doesn't love to dream about tropical islands?  In our dullest moments, allowing ourselves to imagine escaping to the best tropical vacation spots is always a welcome escape from reality.
In my mind, the best tropical places to vacation should at least include pristine soft sandy beaches, turquoise blue waters, baby blue cloudless skies, secluded coves, natural beauty, and palm trees swaying in the breeze.  One could of course elaborate from all that and add the scent of barbeque fish on the beach, perhaps the sounds of distant reggae music, colourful exotic flora and smiling local faces with a wonderful laid-back attitude.