Mykonos, Island of the Winds, is a 33 square mile Greek paradise in the Aegean Sea.  93 miles east of Athens, this spectacular island boasts a mountain of over 1,100 feet that gives unparalleled views over the turquoise sea and beyond.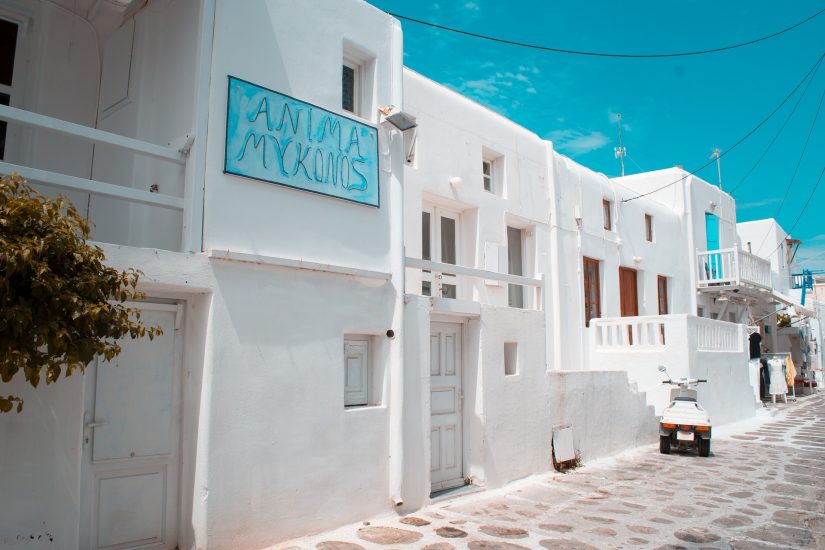 Enjoying a classic Mediterranean climate with over 300 days of sunshine each year, Mykonos is a temperate destination out of season and a gloriously warm and dry destination in high season. In Summer, there can be high temperatures of 40 degrees but the magical Meltemi breezes keep it at a bearable 28 degrees.  Winter months see the temperatures at around 15 degrees, with less wind but some rain. The nine villages along with the main town of Mykonos also known as Chora, are dotted around the island.  With Mykonos Airport the only 4km from the main town and with excellent transport by car, taxi, bus or boat, getting to your accommodation will be a very stress-free experience.  I always stay in a Mykonos luxury villa rather than stay in a hotel.
Here is a list of some of my favourite things to do in Mykonos!
---
1. Visit the nearby island – Delos 
It might seem a little bizarre in a blog about the top things to do in Mykonos that I am recommending you jump on a boat to take the 30-minute trip to the neighbouring island of Delos.  But please let me assure you, it would be remiss of me not to suggest you do so.  It would be akin to you taking a trip to Paris and never seeing the Eiffel Tower.  As one of the most significant ancient sites in Greece, Delos is a tangible link between the ancient wonders of Greek civilisation and our present day.
This vast archaeological site, ranking up there with Pompeii on the Amalfi Coast (you can read more about Pompeii in my Best Things To Do In Positano article), offers visitors a spectacular walk along the streets of history – viewing the ancient temple constructed to honour Apollo who legend has it was born on this island along with his twin sister Artemis, the huntress.
The museum on Delos contains numerous artefacts of great archaeological importance with some large statuary still in position within the UNESCO protected site.  Even if you aren't the most enthusiastic relic hunter, you will really enjoy half a day on Delos.  The boat crossing to and from Mykonos is a lovely part of the visit and gives you a fabulous view of Mykonos from the water.
---
2. Active Relaxing
I don't know about you, but I really enjoy a bit of a workout when I'm on holiday.  Too much time on a lounger leaves me more than a little flat.  Consequently, one of the top 10 things to do in Mykonos, Greece if you want to burn off some of that delicious baklava is to hop on one of Yummy Pedal's bikes and join a tour of the island.
About Mairead Moriarty
Born and raised in Co Kerry, lived in London, New York, San Francisco, Dublin. Owner of one very battered suitcase, a well-worn passport and a million memories. It seems very fitting for a travel writer that my surname translates as 'Skilled Navigator'. Apart from an occasion when, aged 3, I got lost in a Supermarket in Tralee, I have managed to live up to my name! Curiosity is probably the driver that has sent me on magical mystery tours around the world. I want to 'feel' a place. I want all my senses to be engaged: from the history and geography that has influenced a country or city, the arts and achievements of its natives, anything and everything really. Regardless of whether I am on a local train travelling through Morocco, or poking around in Marconi's study in Bologna or on a canal boat weaving through the heart of the English countryside, the same rules apply - ask questions, talk to locals, eat what they eat, sit quietly with nature and simply be. Assimilate as much as is possible so as to understand the soul of a place. That is my passion. That is the compass by which I navigate.