As a newly married couple, what better way to start your lives together than with a trip of a lifetime.  Whether you are looking at the best beach honeymoon destinations for languid relaxation or a full-on party, here are some fabulous recommendations to get you excited.
In no particular order of preference, here's an overview of some of the world's best beach vacations for couples and honeymooners alike.
Our tour will take in destinations in Europe, the Caribbean, Asia, Africa, North and Central America and Oceania.  The world is a big wide, and exciting playground, just waiting to be discovered.
---
---
The Maldives – Over Water Bliss
The no-brainer recommendations that hit the top 10 honeymoon beach destinations year on year has to be the Maldives.  These gorgeous islands provide all the key ingredients for memorable romantic getaways: luxurious accommodations, divine beaches, delectable dining.  Yes, you'll surf the wave of the collective love of all the other honeymooners vacationing nearby, but it's not some cookie-cutter experience.
The key to the success of these stunning islands is luxury relaxation.  Decades of experience welcoming couples means that these countries know exactly how to set the stage for full-on honeymoon romance.  Anyone whose been through the rollercoaster of a big family wedding will be craving that space and time to decompress and ease into each perfect day at a laid-back tempo, and that's what you'll find when you touch down.
The Maldives is considered one of the best honeymoon island destinations in the world. Inter-island exploration is a key feature of a Maldives honeymoon, including a visit to some of the 200 exquisite beaches within this archipelago.
Get to one of those beaches that glow in the dark with bioluminescent plankton.  It's the beaches version of Aurora Borealis for a night-time wow factor.  Couple's massages overlooking the turquoise waters is another way to up the amp on the relaxation quotient of a honeymoon.  You will feel all of that tension unfurl as the aroma of essential oils drifts through the air.  And all the views aren't just above the horizon.
Why not dine in the famous Ithaa aquarium restaurant or take a spin in a yellow submarine.  Just some of the once in a lifetime experiences that await in the Maldives.  Check out the stunning Over Water Villa at One & Only Reethi Rah.  Be at one with nature with the one you love!
---
The Seychelles – Honeymoon Heaven
Beachy perfection and one of the best tropical places for a honeymoon are a given when you arrive in Seychelles.  Pretty stretches of sand unfurl before fabulous resorts and private villas just waiting for you and your beloved to stroll hand in hand.
With lots of undeveloped coves around the islands, you can find that idyllic quiet beach where a champagne picnic for two can be one of the most romantic and treasured memories of your honeymoon.
Island hopping is another great feature of Seychelles life.  You can jump onto the ferries that move between Mahe, Praslin and La Digue, spending time exploring these islands, visiting markets and sampling delicious food.
The rich history of Seychelles is captured in the mix of French, Asian and African influences.  Check out Hideway Pool Villa on the island of Felicite, where a private pool, sea views and access to the world-renowned Six Senses Spa will deliver the honeymoon of a lifetime.
---
Costa Rica – Unspoiled Activities, Wellness
This country with both Pacific and Caribbean coastlines ticks all the boxes for the best beach vacation for couples who like to embrace wellness and natural beauty.  From surfing to yoga, healthful living and exploring the tropical hinterland, there's a rich buffet of beauty to embrace in this spectacular country.
Luxury accommodations that pack some real punch from a sustainability point of view are yet another desirable facet for many visitors each year.  You can hit the hammock and while away a day or two listening to the sounds of the jungle or maybe take in a hike or horseback ride through the lowlands of the impressive volcanic mountains.
With whales moving along their oceanic corridors just off Costa Rica's coast, it's just one amazing photo opportunity after another. Check out the two-bed villa in CR's Four Seasons for a luxurious private space for your honeymoon. Enjoy a Costa Rica Honeymoon like no other!
---
Antigua – Elegant, high-end Relaxation
In just over three hours from Miami, you can be touching down on one of the most luxurious of the Caribbean islands.  It's on the top list of glamorous destinations for honeymooners.  As well, it's one of those heavenly locations where an overseas wedding can be built around the holiday of a lifetime.
Couples wishing to renew vows can do so on one of the spectacular 365 beaches dotted across this country.  If you are a sailing enthusiast, you will want to get onto a yacht or catamaran and explore the coastal waters, taking in the amazing views of the green and lush landscape.  If you like relaxed beach-living by day and glamorous dining by night, this is probably one of the better honeymoon choices for you.
Check out Seahorse Villa in Jumby Bay Resort, where your own housekeeper and access to the Resort facilities will ensure that level of pampering that you richly deserve.
---
Hawaii – Polynesian Paradise
You'll never not find these Pacific Islands on a list of best islands for a honeymoon.  For decades this US State has delivered on romance, beauty, privacy and fun for happy couples.
Whether you are first-timers, second or third-time rounders or a couple who've renewed your vows, Hawaii has that adaptable tempo that works for every demographic.  The coastline is at the heart of any trip to the Islands, and there are over 100 turquoise water, palm-fringed sandy beaches to choose from where learning to surf can be so much fun.
Criss-crossing Kauai, Maui and Big Island are quiet roads that weave through valleys and tropical rainforests, too, where a bit of off-roading can showcase waterfalls and breath-taking views.  Nightlife ranges from cosy dinners on your private terrace to full-on luaus, live music venues and fun bars.
Take a stroll away from the bright lights and embrace a sky full of stars.  It's all going on in Hawaii.  Check out Hanalei Waterfall House on Kauai for a taste of Polynesian paradise.
---
Jamaica – Party in Paradise
The Caribbean has so many fabulous honeymoon destinations. The climate and beaches ensure it's at the top of many lists.
If you want one of the Caribbean's top honeymoon islands for full-on fun, Jamaica rings a lot of bells.  It is one of the best islands to visit. Like the rum punches whipped up from the local produce, you will be intoxicated with the laidback vibe of this island nation.
Luxurious resorts like The Tryall Club offer a warm welcome to honeymooners and specialise in creating once in a lifetime memories for those lucky enough to stay there.  It's like a chic country club with tennis, golf, private beach club, wellness and nature tours all combining to keep you as busy as you would like to be.
To sample the nightlife of Jamaica, why not take a trip into Montego Bay and party down on the Hip Strip at Margaritaville.  Daytime tours can take in some of the big old plantation houses that are now fascinating museums or learn more about the roots of reggae.
They say that Jamaica is so laid back that the only effort you need to make is to gently raise your hand to call for another deceptively seductive rum punch!  Check out Serenity on the Beach for that idyllic villa in which to unwind in style in one of the Caribbean's best tropical honeymoon destinations.
---
Italy – Where Style meets Substance
Style and glamour are the bywords of any honeymoon to Italy.  From the sweeping vistas along the Amalfi Coast, trips to Capri or a visit to the ancient and unchanging face of medieval Venice, you will be drawn into the thrilling energy of this country that really knows how to dazzle.
The personalities of Northern and Southern Italy are quite different.  A more formal attitude in the North gives way to a slower-paced Southern vibe, but throughout, it's one classy experience.  Around every corner is another slice of architectural magnificence to render the visitor speechless.
From Pompeii to the Bridge of Sighs to the undulations of a Tuscan hillside, Italy is a box of treasures waiting to be unpacked.  For the ultimate in an Italian beach vacation, you should look no further than the volcanic sands of the pretty beaches around Positano and Amalfi.
These get voted best honeymoon beach with regularity.  It's a combination of the nearby romantic little trattorias, high-end Michelin star dining, cute boutiques, meandering steep cobbled street where strolling hand in hand is a must.  This is a honeymooner's dream destination for sheer cliffs and sheer spectacle.

Check out Guilia in Positano for extraordinary views across the rooftops of Positano.
---
Mexico – Pacific and Caribbean – Sea and Spice
One of the best tropical places for a honeymoon has to be Mexico.  Whether you aim for Cabo, whose name is synonymous with the glitterati or are drawn to an equally luxurious but more low-key honeymoon experience of Playa del Carmen in Riviera Maya, Mexico is a destination rich in history, terrific weather, beautiful views all wrapped up in a spicy package.
Day trips to ancient Mayan sites can add a fascinating dimension to a lazy honeymoon trip.  And let's not forget the food.  Delicious!
Check out the Beach House in Playa del Carmen for on-beach luxury along the Caribbean coastline.  Or take a look at Ocean View Villa in Los Cabos with a stunning view over the Sea of Cortez.
---
Kokomo Island, Fiji – Privacy and Exclusivity
Fiji, located within the Great Astrolabe Reef, is an archipelago of over 300 islands located in the South Pacific.  The private island of Kokomo, within this divine setting, is the destination for honeymooners who are keen on a rejuvenation and relaxing vacation experience.
The luxurious private villas that make up this gorgeous resort provide access to what could probably be described as the best honeymoon beach in the world.  In-villa dining is part of the package with access to every type of water sport and amenity you could wish for.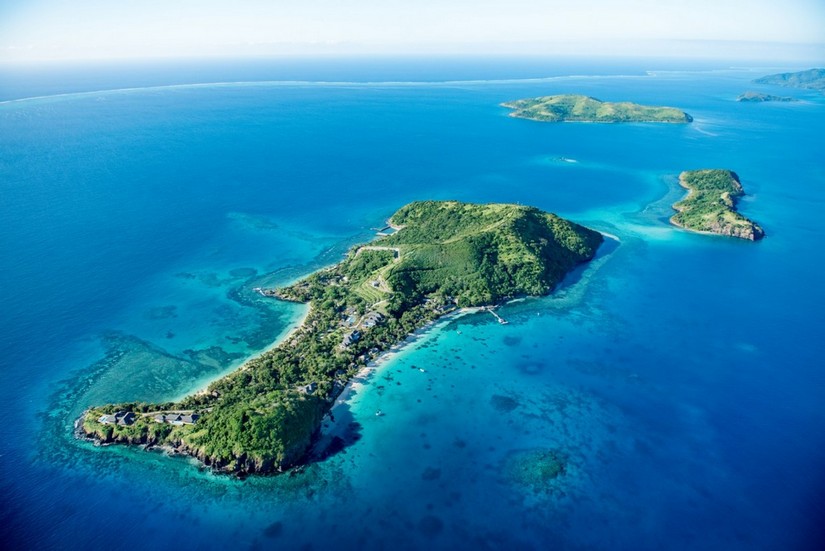 The spa facilities utilise the natural ingredients found throughout Fiji to deliver soothing and reviving treatments.  Yoga and meditation can be woven into your Kokomo honeymoon, too, as well as diving around the extensive reef structure in areas at dive sites used exclusively by Kokomo residents.
It's all part of another layer of cocooning that makes this one of the world's most sought-after getaways.  Check out one of the Sunrise Villas for its sheer perfection.
---
Dominican Republic – The Fully-Loaded Honeymoon Experience
The spectacular Punta Cana and Cap Cana resorts, covering miles of coastline of the Dominican Republic, offer just about every amenity a honeymoon couple could wish for.  Horse riding through the surf, world-class golf, dining in any number of fabulous restaurants, sipping cocktails overlooking the ocean, spa services, and so much more.
For the best tropical honeymoon destination that provides a fully-loaded experience, Dominican Republic is one of the best.  Easily accessed from continental USA, this Caribbean nation has created a gorgeous playground for couples who enjoy having all the amenities they desire within easy reach. Find the best resorts in the Dominican Republic.
Check out the 3-bed Royale Villa Eden Roc for a luxurious and private honeymoon experience.  Half and full board options are available.
---
Conclusion
This is only a mere sample of some of the incredible destinations around the world that appeal to honeymooners and couples alike.  If you have more specific criteria of wishes, then give the award-winning Exceptional Villas sales team a call, and they will pinpoint those countries that can deliver your dream vacation.  It's all going on when you choose the amazing Exceptional Villas team to create your bespoke honeymoon experience.  We work closely with you to build that heavenly trip that reflects your tastes and preferences.
From a beautifully luxurious location with gorgeous views, access to romantic beaches, casual picnics or high-end candlelit dinners, long leisurely couple massages or high-octane water sports, it's just one long menu of magical memories.  Wishing you and your beloved a long and happy life together, and here's to many happy adventures!
About Mairead Moriarty
Born and raised in Co Kerry, lived in London, New York, San Francisco, Dublin. Owner of one very battered suitcase, a well-worn passport and a million memories.
It seems very fitting for a travel writer that my surname translates as 'Skilled Navigator'. Apart from an occasion when, aged 3, I got lost in a Supermarket in Tralee, I have managed to live up to my name!
Curiosity is probably the driver that has sent me on magical mystery tours around the world. I want to 'feel' a place. I want all my senses to be engaged: from the history and geography that has influenced a country or city, the arts and achievements of its natives, anything and everything really.
Regardless of whether I am on a local train travelling through Morocco, or poking around in Marconi's study in Bologna or on a canal boat weaving through the heart of the English countryside, the same rules apply - ask questions, talk to locals, eat what they eat, sit quietly with nature and simply be.
Assimilate as much as is possible so as to understand the soul of a place. That is my passion. That is the compass by which I navigate.