When the term Baby on Board is literally your status, you will want to find a vacation experience that fulfils all your dreams as a traveller while also taking into consideration the fact you are incubating a beautiful little human being.  Let's take a look at some of the best babymoon destinations that will allow you to nest comfortably yet still enjoy some holiday adventures that won't ruffle the stork's feathers.
---
Top Babymoon Destinations for Mum and Tum
---
Here are some of the recommended best babymoon locations for you to consider:
---
USA
---
Hawaii
This island paradise in the Pacific is a slice of heaven.  Whether you decide to unpack in one of the beautiful villas in Kauai like Hanalei Bay Villa 8 with views across the lush landscape and the Pacific.
Or perhaps Anini Beach Front Home with its spacious gardens and direct beach access, the relaxed vibe of Kauai is tailor made for couples interested in where to go for babymoon when you want to really chill and unwind.  Gentle beach walks, drives around the island to explore the diverse scenery, delicious food, Kauai has it all.
As well, The Big Island offers breath-taking scenery and wide-open spaces in which to find your own personal Zen.  If your partner likes to take on some full-on activities, then you can settle in on one of the many fabulous beaches while he tackles some surfing.
The fun tempo of life in Hawaii ensures you can wind down and enjoy a luau and some divine mocktails to round off a day of beach perfection. The very lovely Villa 37 at Mauna Kea on The Big Island is a real home from home where you will be able to vacation in seclusion with your own private pool.  Hawaii really has it all for babymooners.
---
California Dreaming
If you prefer to stay on mainland USA, then one of the best places for a babymoon that has glamour and access to the very best of holistic pre-natal services has to be California.  If you like history and beauty rolled into one tantalising package, then the Orson Welles Historic Estate tucked into the Hollywood Hills is waiting just for you.  With the look of a beautiful Cape Cod home, surrounded by mature gardens, this property is a calm oasis within easy access of Sunset Boulevard's shopping and dining options.  Why not let Exceptional Villas concierge team hook you up with some of the very best pre-natal yoga classes or private bespoke massages that will complement your season of pregnancy.
If you crave mountain air, then the charm of Tahoe might be just for one.  One of the most beautiful properties is Old Greenwood 11243.  An opulent alpine cabin flooded with natural light.  Light hikes can be easily negotiated from this pretty property.
If it's winter you can hunker down under blankets, sipping hot chocolate watching the sun sweep across the snow.  This is a home for all seasons with something unique and special to offer the expectant parents.  The nearby Old Greenwood Pavilion, accessed by foot or on bike offers swimming pools, golf, spa services. There's an excellent kids club too so if you are looking for babymoon vacations with kids, this is one of those really great outdoorsy destinations for all the family.
---
East Coast Living
If you want to find that idyllic East Coast home that will welcome you for a fun yet relaxing babymoon then check out Villa Downton in the Hamptons.
This traditional style country house, located near the fabulous village of Southampton, is a charming property that would work really well for a small group of nesting couples or perhaps one of those babymoon trips for a group of hot mammas.  Your private pool nestled in the lovely gardens, provides a glade of calm where you can sunbathe, swim and let your bump hang out!  With lovely restaurants and cafes nearby, you can slip into some pretty casual glamour and embrace all of the pleasures of the Hamptons.
---
Europe
---
Italy
One of the most wonderful countries to visit when you are pregnant has got to be Italy.  The cult of the Madonna isn't just confined to the religious shrines.  Mother-to-Be is treated like a goddess in this European destination.
There's simply nothing too great or too little for the locals to do to make you comfortable.  And if that doesn't inspire you to take your beloved bump to this gorgeous corner of the world, then let's talk about the food.  Italy has to be one of the best places to go on a babymoon when you are enjoying that whole eating for two experience.  So much of the food prepared in Italy is comprised of simple ingredients whipped into some delicious and flavourful creations.  Of course, you will need to be mindful of the 'to be avoided' food items but you won't have any difficulty finding scrumptious plates of goodness waiting to nourish you and baby that comply with your dining rules.
The jewel in Southern Italy has to be the Amalfi Coast.  The sweeping coastline, dramatic cliffs and the incredible golden villages and towns that seem to drape seductively down to the bluest of seas are just some of the incredible attractions to be enjoyed.  Cleta, a villa perched overlooking the pretty town of Positano, is one of those stunning properties that delivers privacy yet within easy access of the fun and adventure of Positano and nearby island of Capri.  The historic sites of Pompeii can be visited and the larger town of Sorrento is a short drive away.  Do note, there are a certain amount of steps and steep hills around this part of Italy, so be sure you're comfortable with that level of required physical activity.
Looking to the North of Italy, from Villa Chicca on the edge of Lake Como, you can relax in the clear air.  This heritage property is within easy distance of an array of interesting towns and villages.  The easiest way to get around is by the amazing network of ferries that navigates Lake Como.  Trips to Bellagio, Como, Lecco or any of the other picturesque locations around this breath-taking destination can be combined with shopping and indulgent dining.  It's couldn't be more relaxing.
And not forgetting those gorgeous little baby clothes boutiques that seem to proliferate around the Mediterranean.  You'll be able to pick up some of the cutest outfits in hand embroidered linen that will transform your bambino into something rather angelic.
My one big recommendation for anyone in second or third trimester going to Italy, take some really comfy flats.  There's a whole lot of cobbles to be navigated.  All very easy when you've the perfect footwear.  Enjoy!
---
Caribbean
---
How long you're prepared to be on a plane might determine your ultimate babymoon destination.  But if you are within easy distance of the Caribbean, here are some of the loveliest islands that might suit babymooners.
---
Cayman Islands
The Cayman Islands is one of the best islands to visit on a babymoon. One of those divine destinations in the Caribbean that offers luxury and relaxation has to be Grand Cayman.  Beautiful beaches circle the islands offering miles of white sandy perfection.
Where better to truly relax than in one of the sumptuous two bedroomed suites at the fabulous Ritz Carlton Resort located on the famous Seven Mile Beach.  With all of the amenities of this resort at your fingertips, you can enjoy the pools, easy access to the beach, private sunbathing on your balcony overlooking the Caribbean.  You have your own kitchen if you prefer to stay secluded but if you like to get out and about, the Resort's dining options are myriad.  Locally sourced ingredients are key to the quality of the cuisine to be enjoyed throughout.  And not forgetting the spa.  Why not have a couples massage or try out some yoga or other restorative practices.  It's all available here, in one tantalising package.  Enjoy!
If you enjoy being right on the water's edge, then The Pools #10, Cayman Kai/Rum Point area is an excellent choice.  Pretty walks sweep out from this sweet property, the inviting sea is just a few steps from your lovely beachfront villa.  The Cayman Kai area is very unspoiled.  It has less of the bustle associated with the more developed sides of the island.  For a peaceful and restorative vacation pre-baby, this might be an idyllic choice for you.
---
St Barts
St Barts is one of the best babymoon destinations. This jewel-like island has so much to offer and for the ultimate in babymoon destinations, it doesn't get more glorious than St Barts.  The privacy and natural beauty offered by Samsara villa, tucked away in the uber exclusive area of Pointe Milou, might just be the perfect place to do some vacation nesting.  The views over the sea are simply stunning.  Lorient beach is only a short distance away as is the charming town of St Jean.  Within 15 minutes by car, you can be strolling through the capital Gustavia.  A fabulous place to see and be seen, enjoy leisurely brunches and indulge in some incredible retail therapy.
Another great option in the Pointe Milou area, is Villa Zen.  With its own pool and commanding a view over the sea, this beautiful property offers space and style, again within easy access of the beaches and towns of St Barts.
If you prefer to be in the heart of the action, then the perfectly situated Casaroc located in Gustavia is ideal.  The views across the harbour are captivating.  You will happily spend lazy hours on your terrace watching the pretty yachts move in and out of the harbour.  The beach, restaurants and shopping of St Bart's capital are a short stroll away so there's plenty to entertain and amuse you while you enjoy the seclusion of this attractive villa home.
NOTE:  There has been issues with the Zika Virus across the Americas and the Caribbean.  This is a link, current at the time of writing, explaining the Zika status of both Cayman Islands and St Barts. For indepth health guidance, check out this useful resource from the CDC.
At Exceptional Villas we always advise travellers to do their own very specific research on destinations with regard to the issues of health and safety. Check out our St Barts travel guide.
---
Quirky Dining
It's no secret that pregnant women's dining habits go through something of a metamorphosis.  From pickle cravings, to crunching ice cube, to adding hot sauce to, well, just about anything, there's no accounting for the 'room service' demands made by your baby.  One fabulous aspect of a babymoon in our luxury villas is the option of having your very own in-house chef.  You can work out a menu that will really hit the spot with all of your cravings, arrange meal times that work with your preferred schedule and ensure your fridge is stocked with those tasty and perhaps slightly bonkers snacks that will call to you around 3am.
---
Picture Perfect
One of the very best reasons to take a babymoon is the opportunity for you, your partner and your bump to spend some quality time together.  It's one of the most bonding experiences to just 'simple be' and cherish the whole pregnancy journey.  One of the key ways in which to memorialise this is through photography.  Gone are the days when pregnant women dressed in shapeless tent-like structures and went into some Tudor England type of confinement.  Bumps are big business and on display all over Instagram.  On your babymoon, you'll be rested, looking your best, feeling cherished.  What better time to find a pretty location on a beach at sunrise or sunset and get those perfect poses captured on film.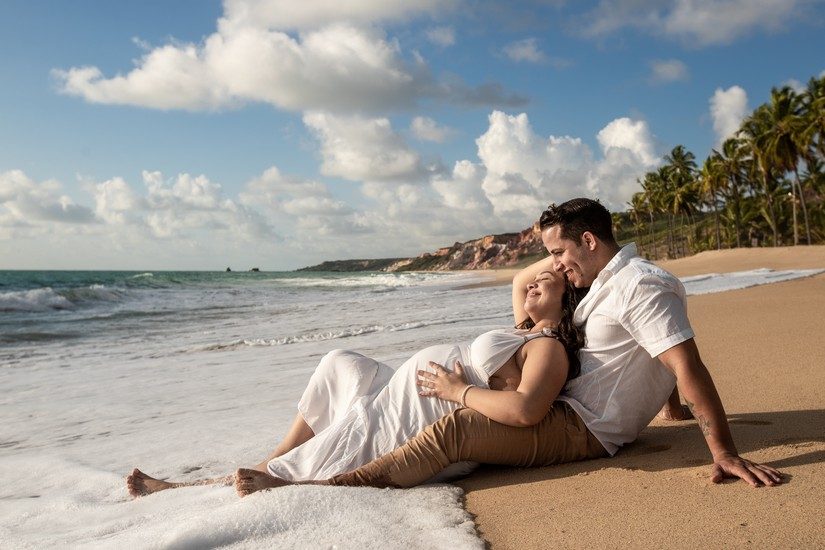 As an amazing add on to your babymoon, why not let Exceptional Villas incredible concierge team source a photographer who can capture you in all of your blossoming glory.  With your bump glowing from a little sunshine, it's the perfect opportunity for a photoshoot that captures the joy of this part of your family's journey.
---
Where to Go?
Key considerations before you look at some of the best babymoon locations is to identify any limitations that might affect your choices.  Things to consider would be your doctor's advice in terms of whether it is advisable to travel and how long a flight you could comfortably take.  Other considerations are whether your health insurance needs to be modified to cover you for travel abroad. Also, the availability of good hospital care at your destination should your baby decide to appear ahead of schedule.
---
Freedom to Roam
There's certainly a perfect vacation experience for pretty much all pregnant women.  The world offers so many activities and adventures that are perfectly safe for pregnant women who like to enjoy fully active lives.  Pregnancy vacations can be at the forefront of celebrating the whole baby experience.  It's a glorious opportunity for future Moms and Dads to build up a store of happy memories, make plans, be inspired about baby names, relax and have fun before their beloved bundle of chaos arrives into their world.  Enjoy it all.
About Mairead Moriarty
Born and raised in Co Kerry, lived in London, New York, San Francisco, Dublin. Owner of one very battered suitcase, a well-worn passport and a million memories.
It seems very fitting for a travel writer that my surname translates as 'Skilled Navigator'. Apart from an occasion when, aged 3, I got lost in a Supermarket in Tralee, I have managed to live up to my name!
Curiosity is probably the driver that has sent me on magical mystery tours around the world. I want to 'feel' a place. I want all my senses to be engaged: from the history and geography that has influenced a country or city, the arts and achievements of its natives, anything and everything really.
Regardless of whether I am on a local train travelling through Morocco, or poking around in Marconi's study in Bologna or on a canal boat weaving through the heart of the English countryside, the same rules apply - ask questions, talk to locals, eat what they eat, sit quietly with nature and simply be.
Assimilate as much as is possible so as to understand the soul of a place. That is my passion. That is the compass by which I navigate.