Explore the best beachfront villas Costa Rica has to offer. Central America's jewel is a destination that lives up to its name: the Rich Coast. Costa Rica, for its relatively modest size, packs a lot of fun and adventure.
A stay in one of the Costa Rica beachfront villas, with easy access to dazzling beaches and crystal waters, is a mere morsel of the deliciously diverse offering from this marvelous nation.
---
---
On the Beach
Costa Rica has over 800 miles of sublime coastline. You will find stretches of sandy beaches unfurling along beautiful turquoise waters on the Pacific and Caribbean coastlines.
You can expect sand from the purest white to a shimmering silver as you explore some of these deserted spaces. Although Costa Rica is about the size of the State of West Virginia, many beachy pockets have that castaway feel devoid of any other explorers.
---
Beachfront Villas in Las Catalinas
Las Catalinas, the beautiful beach resort overlooking the beach of Playa Danta, has been written up in many prestigious travel journals. A car-free zone, this magical low-rise development offers travelers the ultimate in relaxation.
Check out Casa Cielo or Casa Teja for examples of the unique architectural design of these fantastic 3-bedroom, self-contained properties. The dry forest, as opposed to the rain forest, offers a tantalizing backdrop to these properties where you can enjoy hikes, mountain biking, and nature trails. Well, that's if you can drag yourself away from your private pool or beach activities.
Playa Danta, the beach that fronts your private villa at Las Catalinas, is ideal for swimming, paddle boarding, snorkeling, or just lazy floating. Then, take a stroll to the heart of the town for a lovely lunch or dinner or dine at home to enjoy the incredible views westwards over the Pacific.
---
Beachfront Villas in Playa Langosta
Further south is the picturesque Playa Langosta, where you can stay at Casa Roca. This six bedroom villa is one of those beachfront villas in Costa Rica that will offer you a more classical design with textured natural stone features and an infinity pool. You will also have easy access to the beach and nearby community of Tamarindo.
---
Beachfront Villas in Tamarindo
Another one of the stunning Costa Rica beachfront vacation rentals is Morabeza. You can enjoy a self-contained vacation in this modern property with secluded beach access. The clean lines of the villa design surrounding your pool are the perfect backdrop for exploring Tamarindo. What was once a pretty Costa Rican fishing village has now morphed into a globally-recognized, ultra-cool surfing destination. Curling waves along the beaches attract surfers of all standards who want to merge with the Pacific.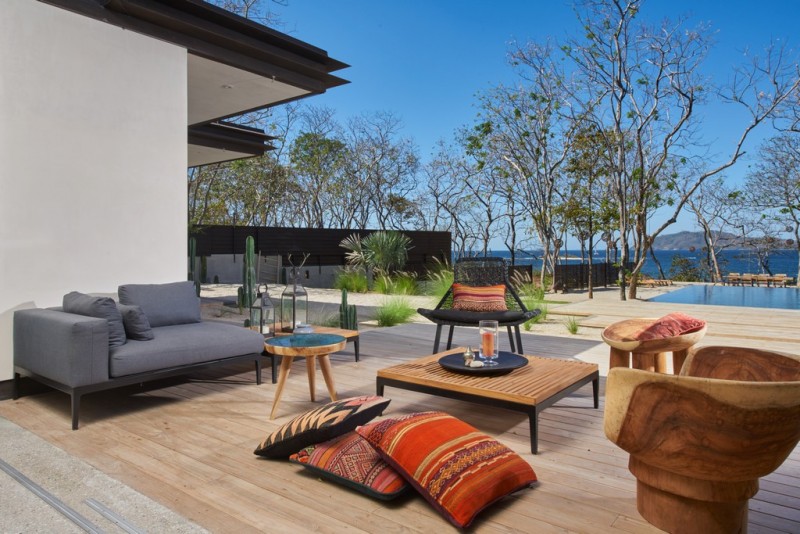 Wellness has become a key feature at many of the villas in Tamarindo. Guests can access yoga and massages for those who like to add some holistic practices to their vacation experience.
---
In the Waves
It's impossible to write about Costa Rica without mentioning its surfing credentials. For decades, those in the know have traveled to Costa Rica's Pacific shores to ride the waves. Many purists will tell you that Costa Rica is equal to Hawaii in terms of the quality of the surf.
The pretty villages and towns that back onto these wonderful surf beaches have developed organically over the years. Luckily these developments have seen the heart and soul of Costa Rica preserved without big business throwing up unsympathetic and unattractive large-scale properties to mar the coastlines.
The beaches around Santa Teresa, home to some of the best surfing, support a cosmopolitan visitor demographic. Surf coaches from Australia rub shoulders with Californian yoga teachers. Celebrities blend into the scene as they partake in the laidback and unspoiled lifestyle.
Perhaps you and your group are looking for the ultimate base for your Costa Rican vacation experience; the aptly named Casa Lanui – a hybrid of Spanish and Hawaiian – means Holiday Home. It is a 7-bedroom, 5-star, private compound.
However, if your group extends beyond this number, you could also reserve Casa Taman, the four-bedroom luxury villa that along with Lanui make up the North Creek Estate.
Another of the Costa Rica vacation rentals with beachfront access guaranteed is the aptly named The Point. Occupying an enviable position on a promontory with 270 degrees of unimpeded ocean views, you will be able to drift off on a hammock or into a restorative sleep to the lullaby of the sea. This private, staffed villa will offer you and your group a spacious property of terraces surrounding your infinity pool to bedroom suites with small balcony spaces.
If you don't do all your keeping fit on the waves, you will be delighted to find the gym with a beach view is a great place to add a workout to your schedule. Add a private chef to your booking, and you will be cossetted and cared for. A free Liberia Airport transfer is another element that makes this property an excellent choice for the discerning traveler.
---
In the Jungle
Costa Rica has dedicated over 25% of its landmass to nature reserves. These vast tracts of land and sea protect plant and animal life. You will find the luscious forests – both rain and dry – are habitats to some of the most colorful creatures, literally and figuratively, on this planet. Hundreds of species of birds, like Macaws and Toucans, live and breed in the canopy of the Costa Rican jungles. Chattering monkeys offer an excellent contrast to the lazy somnambulant sloths.
The jungles and coastal regions combine to create mangroves and waterways that you only can explore by kayak. The hills and mountains left over from volcanic activity have gifted rushing waterfalls with plunge pools designed for the perfect swim or Instagram.
As part of any Costa Rican adventure, we recommend setting out on foot, on a bike, on a thrilling ATV, or on horseback to weave through forest trails. Local guides can offer you not only the best advice about how or when to explore but will help you understand how best to work in tandem with nature. Protecting species and habitats are all part of the impressive credentials of Costa Rica.
---
In the Trees
You will discover canopy tours are one of the most memorable adventures of a vacation to this corner of paradise. You might be staying at one of the luxurious Costa Rica beachfront villas, but as a lovely counterpoint to the vast open blue, you will be mesmerized by the wide open green as you zipline through the high reaches of the jungles.
Mal Pais has a canopy tour that is easily accessible for travelers in the Santa Teresa area. With views across the trees to the Pacific, you can travel the mile-long cables. Further afield is Sky Adventures Monteverde, located in the Monteverde National Park, Guanacaste. This expansive park will give you the whole Costa Rica biodiversity experience, exploring rich jungles, mountains, and waterfalls.
In addition to the thrilling zip lining, you can explore the rain forest canopy by tram and a suspended cable car that will take you slowly through the canopy. Or even better, walk the suspended bridges that have great viewing points.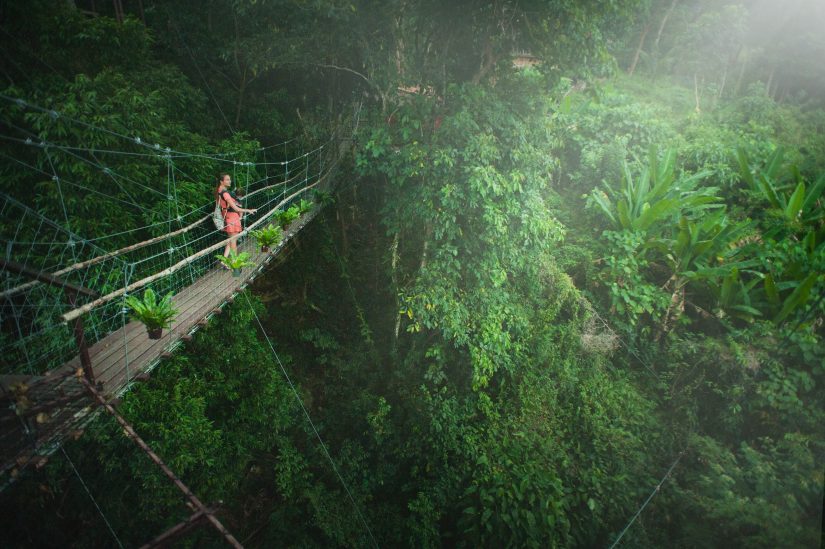 ---
Marine Life
If you are staying at one of the beachfront villas in Costa Rica, it's probably correct to say that you are a lover of all things marine. Maybe you like getting out on a boat to do some sport fishing. Perhaps you are interested in seeing some incredible marine creatures in their natural habitat.
Whale and dolphin watching is a big part of coastal life in Costa Rica. Humpbacked and Pilot whales move through the Pacific waters, and there's one of the longest whale-watching calendars here than in most other nations.
The expertly guided boat tours will allow you to get close to these incredibly noble creatures without causing them any distress. The trips are educational and spiritual, allowing man and beast to observe one another in peace.
The turtle season is another one of those magical experiences. Watching the mass hatching of these tenacious creatures along protected stretches of beach is a once-in-a-lifetime night tour for all ages. Again, you will find virtually all these tours managed by knowledgeable tour guides.
A private catamaran or boat tour can take you and your group on a coastal tour that will allow you to visit deserted beaches for picnics. Dive tours can get you underwater and explore the rich life beneath the waves.
---
A Feast for the Senses
Sitting within proximity of the Equator, you will find Costa Rica's temperatures stay consistently in the high 80 degrees or higher. On the Pacific coastline, there's a rainy season that is at its most intense during September and October.
High season runs from December to April but for a less busy visit, try the shoulder months of May to August and November. These are excellent times to travel to Costa Rica. There are showers most evenings, but the mornings are typically sunny.
Each day is a perfect 12 hours—sunrise around 6 am and sunset at a sharp 6 pm. The old adage early to bed, early to rise is a good one to live by in Costa Rica, so you get the most out of your vacation.
An early morning walk on your beach, horseback riding at dawn or sunset, meditation, or yoga to the sounds of the jungle will sweep your senses into the rich and captivating experience of a Costa Rica vacation.
---
Tastes of Costa Rica
You will be delighted to find the cosmopolitan flair of 21st Century Costa Rica in many restaurants and dining experiences. Check out our blog on the best restaurants in Costa Rica. Influences from the Caribbean, Mexico, North America, and Europe are everywhere, but you will see exceptional ingredients at the heart of all the delicious dishes to charm your palate. An incredible array of seafood speaks to its close relationship with the Pacific.
Local fishermen go out early to bring the freshest of catches to your table. Delicious fruits and vegetables flourish in the temperate climate, and you can cool down with chilled coconut water in its shell on any of the local beaches.
And I do not forget coffee. Costa Rica is home to some of the best coffee plantations where beans are harvested and slow-roasted for that unique flavor. Micro-brewing is another expanding business in Costa Rica.
Locals love their beer, and in addition to the most famous Imperial, available everywhere, fabulous new beers are available at small artisanal breweries.
Lastly, and most important of all, let's talk about the people. Costa Rican, or Ticos as they call themselves, are a proud and friendly people. From sabaneros (the Costa Rican cowboy) to fishermen to farmers, this nation has centuries of traditions that they celebrate at many local festivals.
Flotillas of boats pay tribute to the sea and thank the saints that keep fishermen safe. Towns host bull-riding rodeos where local daredevils like to show their skills. You'll be delighted to know there is no bullfighting, so these rodeo bulls get to return to their pasturelands.
You will enjoy meeting and chatting with locals. Brush up on your Spanish for the rural villages, but English will get you by in the more tourist areas.
---
Why book with Exceptional Villas
For decades, the experts at Exceptional Villas have been compiling a portfolio of the most exclusive villa rental properties in Costa Rica. We choose each property for its unique setting, proximity to areas of outstanding natural beauty, and high-end design.
We are proud to say that all the beachfront villas in Costa Rica we represent tick every box in terms of design, location, amenities, and beauty.
Give our Costa Rica team a call, and start a conversation with our knowledgeable villa specialists. Our team can unlock all of the magical elements of a vacation in this remarkable corner of the globe.
Yes, Costa Rica may be the Rich Coast, but it's usually the traveler who returns from a vacation here who feels truly enriched.
About Mairead Moriarty
Born and raised in Co Kerry, lived in London, New York, San Francisco, Dublin. Owner of one very battered suitcase, a well-worn passport and a million memories.
It seems very fitting for a travel writer that my surname translates as 'Skilled Navigator'. Apart from an occasion when, aged 3, I got lost in a Supermarket in Tralee, I have managed to live up to my name!
Curiosity is probably the driver that has sent me on magical mystery tours around the world. I want to 'feel' a place. I want all my senses to be engaged: from the history and geography that has influenced a country or city, the arts and achievements of its natives, anything and everything really.
Regardless of whether I am on a local train travelling through Morocco, or poking around in Marconi's study in Bologna or on a canal boat weaving through the heart of the English countryside, the same rules apply - ask questions, talk to locals, eat what they eat, sit quietly with nature and simply be.
Assimilate as much as is possible so as to understand the soul of a place. That is my passion. That is the compass by which I navigate.