Beach vacations are definitely a favourite for me. I have always loved the ocean ever since I was little. So whether I'm heading on a luxury Caribbean vacation or I'm planning a staycation, I will always be drawn to the water. A beach is a place of relaxation for me. Even for kids, it is great a great place for them to burn off steam while you sunbathe, catch a tan or just catch up on a good book you've been meaning to read.
Here is my person list of 15 things to bring to the beach:
While it is all fun and games once you arrive, planning them can be slightly stressful, especially if kids are involved. There is so much to consider, from the sunscreen, toys and change of clothes etc. So, if you're planning a day at the beach, it's time to get organised and start your beach packing list to make sure you have all your beach essentials ready to go. It is important to not overload yourself with unnecessary things. The last thing you need is to be lugging a large heavy bag across the beach. Just pack what is absolutely necessary.
If you're a bit forgetful like me or don't know what to bring to the beach, it's better to have a beach checklist ready to ensure you don't forget anything. In that case, we have you covered. Here is a list of our list of essential things to bring to the beach for your next beach vacation.
---
1. Swimsuit
When heading to the beach, the obvious number one item one your beach vacation packing list should be a swimsuit. If it were me, I'd pack two, one for swimming and another to change into afterwards. If you prefer not to be uncomfortably soaking wet, lying on a towel and letting the sand stick to you, you should take my advice. Make sure your swimsuit is comfortable and also one that you love and makes you feel good about yourself. And remember, every body is a beach body.
---
2. Beach bag
A beach bag is another one of those obvious beach essentials when going to the beach. No matter what you need to bring it won't be possible without a reliable beach bag. A classic tote bag is something that everyone will have buried in the back of their closet. Its time to pull it out and fill it up with everything you will need for a perfect beach day. Make sure your bag is durable and can withstand the sea and sand.
---
3. Hat
A hat is always important. Trying to protect your faces from harmful UVA rays is always a good idea. Nobody wants pesky wrinkles or sun damage when we get older. Always make sure a hat is on your beach packing list.
---
4. Sunglasses
---
5. Sandals
Comfortable shoes are a must no matter where you're going. When going to the beach, flip flops will be your best friend. There is no point wearing closed shoes as the sand will still manage to sneak in and nobody wants that. Flip flops are comfortable and more often than not, waterproof and inexpensive.
---
6. Sunscreen
Sunscreen is so necessary and should always be a priority on your beach vacation packing list. While it is important to get fresh air and let your skin soak in that wonderful Vitamin D, too much exposure to the sun can be incredibly harmful to your skin. Make sure before you even leave your house to apply a layer of sunscreen. Don't forget your face either. Many say that you should wear sunscreen on your face every day, even cloudy days. Harmful UV rays can still penetrate cloud coverage, therefore damaging the skin. Don't forget to reapply multiple times a day also. This may seem tedious but is so worth it, especially for the children in the family.
---
7. Lip balm – SPF 50
Lip balm is something people always seem to forget or just skip on altogether. Sun cream for the body is obviously important but SPF for the lips is equally as important. Your lips will end up cracked and sore if you forget about them. So, if you can avoid this, I advise you should.
---
8. Beach Blanket/Towel
A beach blanket often isn't a need but a want. The whole reason behind a perfect beach day is to rest and relax and feel rejuvenated afterwards. Make your day more comfortable and bring a large picnic blanket to lay on. Also bringing a large towel to dry off with is another beach essential.
---
9. Reusable water bottle
A reusable bottle is something that can often be forgotten. But on hot days it is important to keep hydrated. Instead of buying a few bottles of water, save yourself a few dollars and pack a reusable bottle and fill it up at the beach. This will also cut down on single-use plastics. Save the planet, one reusable bottle at a time.
---
10. Snacks
If you don't know what to bring to the beach, the least you can bring is some food. Despite all the other things I've listed and how important they all are, nothing will be more essential than food. The worst thing to happen on your perfect beach day is trying to entertain a 'hangry' child, or a 'hangry' adult for that matter. If a whole lunch or picnic is too much to be carrying around, even throw some snacks into your bag to keep you going till dinner time. Things like granola bars and fruit will be a lifesaver for you.
---
11. Cooler
On a hot day, nothing is better than a cold drink, be it a beer, a cocktail or even just water. Bringing a cooler may seem a little unnecessary, but you will thank me later. When the sun is beating down and the temperature is rising, nothing will feel better than a cold drink in your hand. I guarantee it. Also, a cooler is a great way to keep your food fresh and prevent it from melting. A good cooler is always a good investment as it can be used for many different trips or outings like roads trips or camping etc.
---
12. Portable charger
In today's world, people can't be separated from their phones for five minutes without experiencing withdrawal symptoms or separation anxiety. If you're one of these people, it is probably a good idea to carry a portable charger with you to the beach.  Even if you aren't glued to your phone like a lot of people today, take it just in case of an emergency.
---
13. Portable speaker
Now is your chance to prove to your friends what a great DJ you are. Listening to some good songs while chilling on the beach has to be one of my favourite things. I would recommend only bringing a portable speaker to quieter beaches so as not to annoy anyone with your music. If you're taking it to the beach getting a waterproof speaker is a good tip.
---
14. Beach toys
If you're entertaining kids at the beach, but still want to have your own relaxation time, beach games will be a godsend. They can also be fun for the adults in your group. For the kids make sure to bring beach toys like buckets and spades, beach balls and floaties. For the adults in the group, things like a bat and ball, large pool floaties and frisbees can keep everyone in the family entertained for hours. A beach games tournament is always something that my family and I enjoy!
---
15. Change of clothes
After a long day at the beach, after all the sand has settled itself in uncomfortable and unwanted places, with soaking wet hair and damp clothes that persist on sticking to you, throwing on a nice fresh pair of clean dry clothes will be the most satisfying thing you will experience all day. Nothing will feel better than removing all the excess sand from your feet and hair. Don't ask me how it does it, but sand seems to sneak its way into every nook in the car even if you didn't bring the car to the beach. It is one of life's many mysteries. To avoid this, I would suggest washing off your feet and changing before you even sit into the car. Save yourself the hassle afterwards.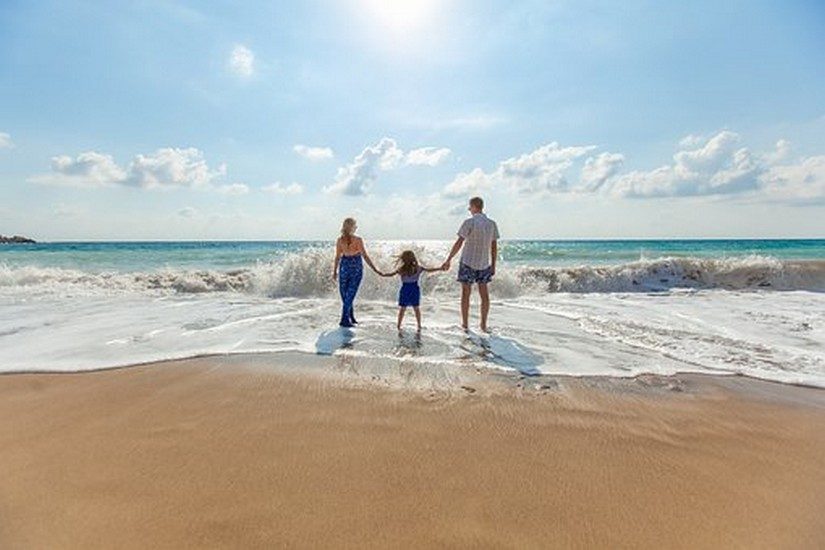 All that's left to do now is check off your beach checklist sit back, relax and enjoy your perfect beach vacation. For those travelling to Italy, you might like to view our Italy Packing List.
About Aileen O'Shea
Aileen is a Marketing Assistant at Exceptional Villas and is passionate about travel. At Exceptional Villas, Aileen is responsible for creating content on our website and social media. Aileen is currently studying a bachelor's degree in Journalism and New Media at the University of Limerick and loves creative writing and also the practical side of her degree, such as photography, film making and editing. She is also travelling to Barcelona next year for six months where she will further her studies in Pompeu Fabra University. Aileen also has a love of photography and is lucky that her university degree incorporates this. She never goes anywhere without her camera. She loves creating content and experiencing life through a lens. Aileen has had a passion for travel since a young age and loves to jet off any chance she gets. Her personal favourite places to travel include Italy, Israel, Dubai and Spain.