When you dream of the perfect beach, what do you see? Is it filled with Blue skies, Sugar fine sand, crystal clear seas, exciting water sports or delicious BBQ food? Look no further because our Anguilla beaches have it all.
Anguilla is one of those desirable destinations in the Caribbean where the informed traveller is sure to go.  It has luxurious resorts and state-of-the-art Anguilla Villas that rival any of the chicest destinations in the world but on an island that likes to keep its glamour credentials on the down-low. It's no surprise to find celebrities and billionaires kicking back in style away from the brasher and more in-your-face destinations in the Caribbean.
---
Here is our list of the top beaches in Anguilla so that you can indulge your senses on your next visit to the island:
---
One of the major reasons that Anguilla is on the wish list has to be its beaches.  With freshly powered shorelines that sink ever so slightly beneath your toes and gently lapping water along the coast. The Beaches in Anguilla are truly breath-taking. When on island you never have to travel far for a day spent in paradise. How many beaches in Anguilla, you ask? The secluded island is 26km / 16 miles in length and holds 33 stunning white sand beaches.
Enjoy endless coral reefs, tantalizing treat, sweet reggae music, friendly locals, exciting water sports and sweeping views of the glittering sea.

---
1.Meads Bay 
Meads Bay is an all-time favourite for locals and guests of the island. This is one of Anguilla beaches which are situated in the West End, and is perfect for walks along the water's edge, as well as sunbathing and water sports! It is the islands widest beach. The beach acts as the epicentre of the high-end luxury scene on Anguilla.
Exclusive Anguilla Beaches Resorts and villas are spread tantalizingly along this award-winning beach. Want to stay in the villa Justin Bieber spent his Christmas vacation in? Then take a look at our Beach House right on Meads Bay's doorstep.
This a beach that has a lot to offer from upscale dining to delicious lunches at the Shack – perfect barefoot dining experience.  Simply sit back and watch the ever-changing colours of the Caribbean.
A favourite of ours is Blanchard's Restaurant and Beach Shack. From salads, soup, Sandwiches, fries, burgers, tacos, ice cream, shakes, desserts and smoothies – This colourful and quirky spot offers a variety of tasty treats for everyone. The shack offers shade, dining space and sun loungers as well as a restroom and changing space.
There is beach access to some of Anguilla's top-rated diving from Meads Bay too.  Enquiries locally can set you up with dive gear and a good guide to introduce you to some of the best sub-marine sites.  If you are interested in getting your PADI qualification, you will most likely start your training right on this beach.
Note: Along the end of Meads bay is another beach we would like to mention called Long Bay.
---
2.Rendezvous Bay 
A dreamy, golden-white sandy beach overlooking the Sea, is how best to describe this pretty bay. There's just so much space! One of the top spots on Rendezvous Bay beach has to be Bankie Banx, Dune Preserve bar.  Named as one of the top beach bars in the world by CNN, the famous reggae artist, Mr Banx, ensures you have a memorable visit to his eclectic bar.
If you are looking for something more casual, then stroll on down to 'Sunshine shack'. This BBQ shack serves the most tender dishes for you to indulge in. This beach shack offers a small menu composed of fish and meat dishes. You can choose from whole lobsters, fish, chicken or ribs.
---
3.Shoal Bay
If you ever wonder what a 'best beach in the world' really looks like, then you will have to visit Shoal Bay to get your answer. The beach is based in the East End of Anguilla and offers over 2-miles of uninterrupted beach splendour. Shoal Bay is a heavenly combination of baby pink powdered sand fringing the ever-changing blues and greens of the Caribbean. This is without a doubt one of the best Caribbean Beaches.
There are lots of drink and dining options along this fabulous beach.  You can easily spend a day here exploring the sea and the beach.  People watching is de rigeur!
While at Shoal Bay, Gwen's Reggae Grill is the place to stop for some Caribbean barbecue.  The rich smoky flavours are delicious and the traditional welcome at this Shoal Bay landmark are warm. Madeariman's further along the beach is a buzzing option for good food.
The beach is also known for its great snorkelling opportunities and as the beneath the surface of the glittering sea you will find many reefs and natural treasures. If you want to delve into the crystal-clear waters and join the Anguillan divers, then Shoal bay is one of the top Snorkel Beaches in Anguilla to choose from
Note: There is a second beach named Shoal bay (West) which is based in the West End of the island, another sensational spot to relax and unwind.
---
4.Sandy Ground 
Getting its name from the tiny village that it's adjacent to, is one of Anguilla's most popular beaches for locals and guests of the island.  A long, perfect stretch of silky white sand extends in a long curve with the villages of North Hill and South Hill book-ending the bay.
Many boats dip in and out of the bay – everything from small sailing yachts to tourist charters and larger boats.  It is the main commercial harbour used on island and acts as a central location for many of the island activities such as boat races, nightlife, and beach parties.
Yet for all this activity, the bay is a very calm and safe swimming spot.  The stillness of the water and the shallow depth make it easy to navigate even for young splashers.
Sandy Ground offers all the pleasure of the water coupled with fun bars and restaurants.  The famous Elvis's bar – an old boat converted into a cool beach bar – is one of the must-visit places in Anguilla. Delicious rum punches, fruity cocktails and beers can all be enjoyed from midday, through to sunset and beyond.
Anguilla's Carnival sees Sandy Ground transform into a mecca for boats of all shapes and sizes.  Like all Caribbean Carnivals, it's colourful, lively and fun.  Sandy Ground becomes party central but in a very measured way.  It's one of the best spectacles to experience in the Caribbean.  Sandy Ground really has something for everyone on its beautiful Anguilla beach.
---
 5.Maunday's Bay
This is one of the best Anguilla beaches for snorkelling and diving. You can also avail of other fun water sport activities such as stand-up paddle boarding or kayaking. The beach is based in the West End and offers calm turquoise waters.
The views are simply stunning, and you can lounge here for hours enjoying the peaceful atmosphere and listening to the waves rolling onto the shore.
---
6.Barnes Bay
This is a beautiful stretch of sand with calm water and lined in palm trees. It is one of the best Beaches in Anguilla for watching the mesmerising golden pink sunsets.
Nearby is the ultra-luxurious Four Seasons Resort. Barnes Bay is adjacent to Meads Bay, and overall is much smaller however is less crowded than Meads Bay Beach. The beach is based in the West End and is a half-mile in length.
Note: Watch out for the 'Green Flash'! This is an optical phenomenon that can sometimes happen during sunrise or sunset. If the weather conditions are right a distinct green spot is visible for seconds as the upper edge of the sun rises or sinks beneath the horizon.
---
7.Little Bay 
This small and secluded beach offers the utmost tranquillity and privacy. It is not easy to get to this hidden cove. If you wanted to hike here, there is no specific path to follow and once above the cove, you would need to climb down with a rope to reach the sand below. However, this is not advised as it can be dangerous for those who have no experience in advanced rock climbing.
For the ultimate get away from it all then it has to be Little Bay.  The best way to visit this beach is by boat (or kayak if you're up for an adventure!).  It is worth the extra effort as the beach is usually deserted and offers some great snorkelling and swimming opportunities. The water is divine – warm, calm and the most gorgeous shades of deep blue to greeny-blue turquoise.
Although, on Anguilla you will find ample beach space where you feel nicely remote without having to make the voyage to Little Bay.  With no amenities or restaurants, you will need to bring all of your key supplies with you e.g. Water, food, sunscreen, sun hat etc. Ani Villa is a stunning and luxurious Villa estate that comprises of 2 villas and offers 10 lavish bedrooms. The estate is situated near Little Bay so staying in this villa means having the secluded beach as your secret cove.
 Note: Crocus Bay is where you will find locals who will take you over to Little Bay beach by boat for around 15-20 dollars.
---
8.Island Harbour 
If you wonder what Sandy Ground was like before it became the hub of tourist activity on Anguilla, then make a trip over to the north eastern corner of Anguilla and visit Island Harbour. An authentic fishing village curves tantalisingly around a pretty bay.
Small fishing boats bob lazily on the crystal-clear water. You can relax with a drink and watch the fishermen come and go. It's a popular spot during Easter week where the marina comes alive. The whole experience at Island Harbour feels very local.  If you want to shoot the breeze with a local at a bar, this is the place to do it.
As a bonus, Island Harbour's Le Bon Pain's croissants are legendary in Anguilla.  This little bakery just east of Island Harbour beach is a magnet for anyone wanting fresh breads and pastries.  Next door to it is the best pizza joint on the island – Artisan.  With pizza's worthy of a Neapolitan pizzeria and some pasta and homemade ice cream too, you can have a romantic dinner on the candlelit terrace and enjoy the gentle breezes floating in from the sea.
---
9.Junk's Hole and Savannah Bay
How about two beaches for the price of one?  The nature of the coastline of Anguilla creates fabulous crescent bays that remain quite sheltered from the more vibrant movement of the sea offshore. Savannah Bay is one such beach.  A virtually still stretch of shallow water that is a magical destination for families with little children.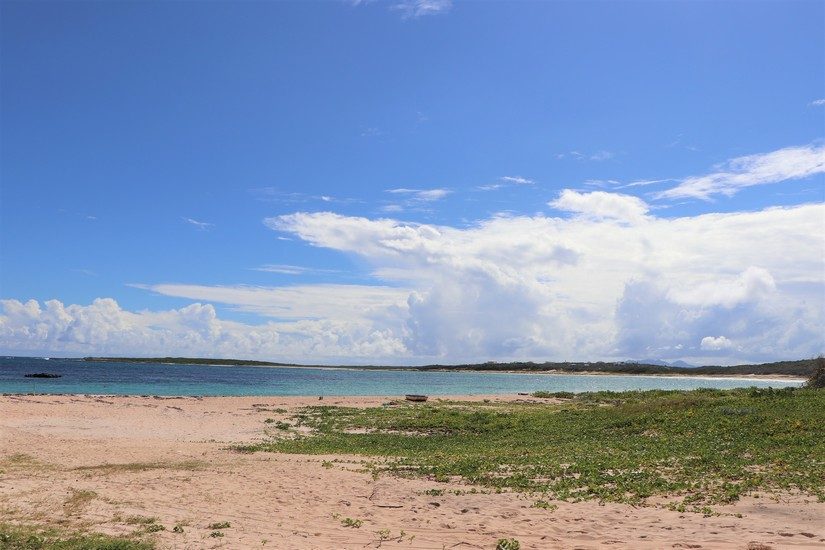 Adjacent to this sweep of stillness is the more rambunctious Junk's Hole.  Even the name conjures up something a great deal more dynamic.  Rolling waves have chiselled a coastline that's both rocky and wild.  Exploring on foot is best enjoyed with shoes so you can clamber over the rocks and look for shells.  The sea is a roiling mass and not ideally suited for relaxed swimming.
One of the chief attractions of visiting this south eastern end of Anguilla is the very underdeveloped coastline. Junks Hole and Savannah Bay would be two of the more secluded beaches on island. As you stroll between these two charming beaches you will stumble across a small and humble restaurant.
If you want to enjoy a lunch par excellence on your adventure to Savannah Bay and Junk's Hole, the only choice – but one of the best island choices – it is Nat's Palm Grove restaurant.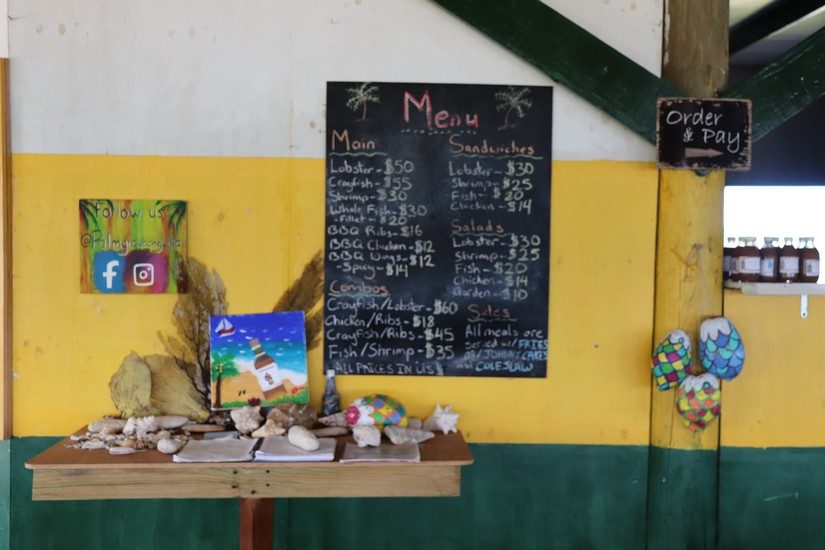 I recommended that you order your lunch when you arrive at the beaches, strike out for a morning of adventure and exploration to come back at your appointed time to a feast of freshness. The food here is not short of amazing. From fish, shrimp, lobster, or chicken to the best homemade johnny cakes on island, enjoy this mouth-meltingly divine food with the Sea at your fingertips.
If you really want to get away from the crowds then this rugged beach in the East End, is perfect for you.
---
10.Sandy Island 
… and now for something quite different. Sandy island is a small secluded haven right off the coast of Anguilla. To get to the island, locals and visitors make their way to Sandy Ground beach where they then take a short 5-10-minute boat ride out into the glistening Caribbean Sea.
The boats pull up to the island where you hop off into the water and walk onto the island, which describes itself as a 360-degree beach.
This haven is a 300 metre by 75 metre strip of pristine sand that's home to an iconic Anguilla restaurant. The very dimensions of this little island mean that you are literally surrounding by beach perfection on all sides and the views here are sensational.
It's recommended you book ahead to ensure a seat at one of the terrace tables. The food is top notch, overseen by a talented chef. The restaurant provides a shaded dining area, live music set up and restrooms. Chilled champagne for the purists or fruity rum punches for those who like to embrace local living, it's just one of those spectacular beach destinations.
An added feature to a day on Sandy Island is the rich unwater exploration for snorkellers.  Bring your gear and build a day of adventure interspersed with some quality dining and fun. The boat shuttle runs regularly so getting to and from Sandy Island is easy. The only issue you may have is with unfavourable weather conditions when the boats won't take travellers out to the island.
Luckily, weather fronts are easily predicted so you will know well in advance whether or not you can travel.
Note: A good tip for when visiting this island – when you get to the island and order drinks at the bar, place your food order then. The island can be busy, and the food prep can take a bit of time.
---
Things to know about the Beaches in Anguilla
Anguilla beaches are open to the public with plenty of parking. The swimming conditions are generally safe with very little strong surf even on the Atlantic side of the island.  Always be guided by local knowledge though. The water temperature keeps to a steady 70 to 80 degrees all year round.  Absolutely dreamy for swimming and water sports.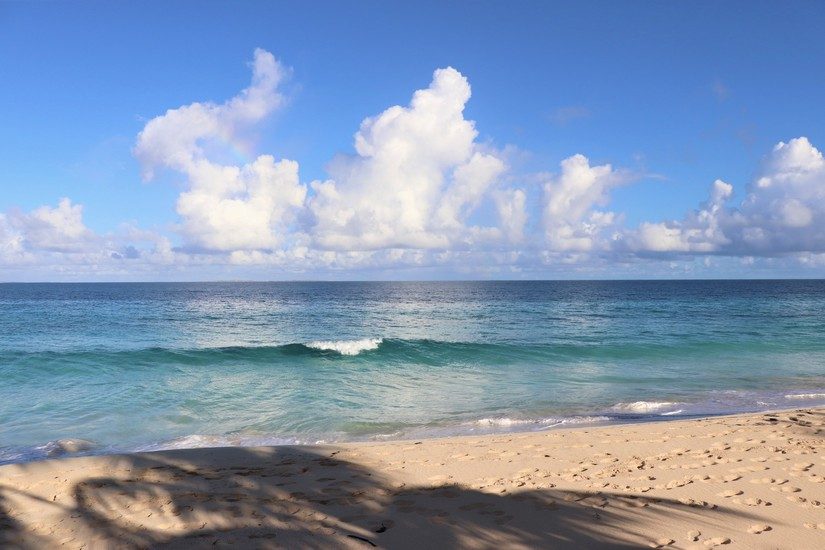 Some of the roads leading to these amazing beaches are basic dusty tracks.  SUVs are ideally suited to the rugged terrain.  There's something rather special about winding along these roadways as you seek out that idyllic beach. Any good Anguilla Beaches map will help you navigate your way to your beach destination.
Some of the beaches are refreshingly unspoiled but that does mean no amenities, like restaurants, bars, parasols – do bring water and snacks, a sun hat and multi-purpose sarong in a light day pack.  A pair of light but practical shoes are a really good choice too.
---
Conclusion
Beaches in Anguilla offer a unique dream that serves endless luxuries and natural hidden treasures. Surround yourself with the purest turquoise waters, from some of the Best Beaches in Anguilla. Take a step out of your daily rut and enjoy a few days saturated in bright blue skies as you lounge under the warm sun. Let the waves wash away your worries as you discover this secluded paradise. Anguilla is the perfect destination for a fun-filled family vacation or even a couples weekend getaway. Be sure to check out our last minute travel tips.
About Mairead Moriarty
Born and raised in Co Kerry, lived in London, New York, San Francisco, Dublin. Owner of one very battered suitcase, a well-worn passport and a million memories.
It seems very fitting for a travel writer that my surname translates as 'Skilled Navigator'. Apart from an occasion when, aged 3, I got lost in a Supermarket in Tralee, I have managed to live up to my name!
Curiosity is probably the driver that has sent me on magical mystery tours around the world. I want to 'feel' a place. I want all my senses to be engaged: from the history and geography that has influenced a country or city, the arts and achievements of its natives, anything and everything really.
Regardless of whether I am on a local train travelling through Morocco, or poking around in Marconi's study in Bologna or on a canal boat weaving through the heart of the English countryside, the same rules apply - ask questions, talk to locals, eat what they eat, sit quietly with nature and simply be.
Assimilate as much as is possible so as to understand the soul of a place. That is my passion. That is the compass by which I navigate.