Mykonos, Island of the Winds, is a 33 square mile Greek paradise in the Aegean Sea.  93 miles east of Athens, this spectacular island boasts a mountain of over 1,100 feet that gives unparalleled views over the turquoise sea and beyond.
Enjoying a classic Mediterranean climate with over 300 days of sunshine each year, Mykonos is a temperate destination out of season and a gloriously warm and dry destination in high season. In Summer, there can be high temperatures of 40 degrees but the magical Meltemi breezes keep it at a bearable 28 degrees.  Winter months see the temperatures at around 15 degrees, with less wind but some rain. The nine villages along with the main town of Mykonos also known as Chora, are dotted around the island.  With Mykonos Airport only 4km from the main town and with excellent transport by car, taxi, bus or boat, getting to your accommodation will be a very stress-free experience.  I always stay in a Mykonos luxury villa rather than stay in a hotel.
Here is a list of some of my favourite things to do in Mykonos!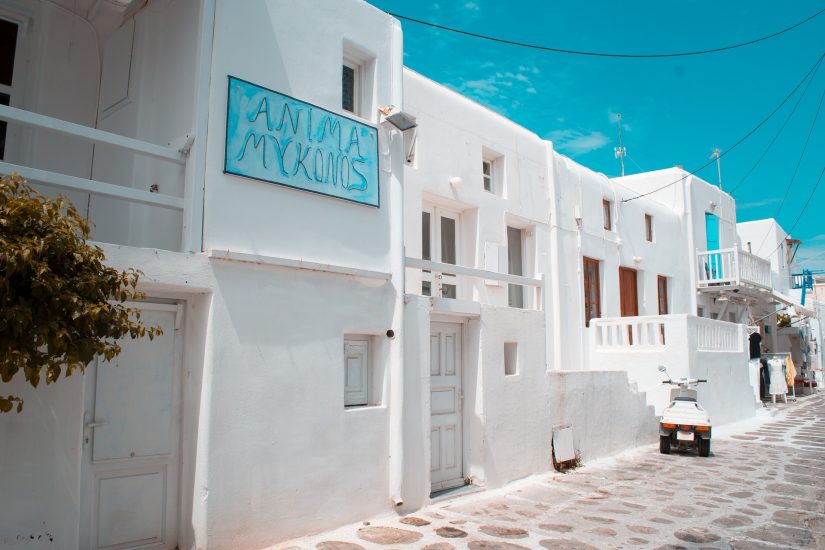 ---
---
1. Visit Little Venice
For centuries, Mykonos has experienced the influence of other European nations.  A very tangible emblem of one of the most significant periods of occupation is the thatched windmills built mainly in the 16th century by the Venetians who governed the island at that time.  The windmills were employed to mill local grain and were a vital part of the economic strength of the island. Although no longer serving this practical purpose, they are a dramatic feature dotting the Mykonos skyline.
Another legacy of this Venetian invasion is the area known as Little Venice on the southwest end of Mykonos harbour.  This locale has become a very pretty and chic place to visit.  The architecture sees typical white Greek houses with vibrantly coloured balconies that hang precariously over the water's edge.  A ramble through here during the day offers little art galleries, shops and cafes to make it an interesting place to visit.  At night, it is romantic and busy with some lovely places to grab a casual bite or a digestif.
---
2. Go on a Foodie Adventure!
The chefs in Mykonos have embraced the universal wisdom that the best ingredients take the shortest trip to get to the diners' plates. With a wealth of scrumptious ingredients harvested from land and sea, the Mykonos menu is as diverse as it is delicious.
A halo of culinary excellence can be found at a select number of restaurants on the island.
But if you have a Mykonos to-do list, with taste as the subject matter, let me suggest you put the divine restaurant M-eating, in Mykonos Town right at the top of your dining experience.  I might not be absolutely in love with the restaurant's name.  It seems somewhat misleading in terms of what is on offer.  However, put all of that aside and get ready for a mouth-watering experience in a tastefully designed traditional building with dining areas inside or some well-spaced tables on their terrace.
The dishes encompassing soups made with local organic vegetables, starters like a salad of melted pears, the ubiquitous Greek salad – the best you will ever taste – endless seafood offerings and of course the meats.  Lamb, pork, chicken all feature as well as quail and rabbit.
For those of you who scan the dessert section of a menu before you've decided on your main course, you won't be disappointed.  Walnuts, almonds, chocolate, fruits – all whipped into confections of pure bliss await your eager palette.  The food is prepared with imagination and presented beautifully.  For our group, it was the most relaxing evening, a leisurely feast of many courses accompanied by some excellent wines recommended to us by the lovely staff.
---
Local Tavernas
For a more budget-friendly dining experience, one of the Mykonos things to do must be to find a traditional taverna. For a unique and quirky experience coupled with delicious unadorned food, I recommend Kiki's Tavern perched above the beach at Agios Sostis.  The outdoor barbecue produces some of the freshest and tastiest plates of food.  With no electricity, you will enjoy the stripped back vibe of this wonderful, family-run taverna with lovely views from the veranda over the sea.  A feast for all the senses!
---
3. Active Relaxing
I don't know about you, but I really enjoy a bit of a workout when I'm on holiday.  Too much time on a lounger leaves me more than a little flat.  Consequently, one of the top things to do in Mykonos, Greece, if you want to burn off some of that delicious baklava, is to hop on one of Yummy Pedal's bikes and join a tour of the island.
Yummy Pedals offers guests of all ages an opportunity to visit the family-run picturesque organic farm and vineyard followed by a leisurely cycle along very quiet roads and trails to a secluded beach for a swim.
As our group splashed in the crystal waters, Dimitria and her colleague prepared the most divine picnic, made up of tasty food ingredients harvested from their farm.  The sensation of the warm sun on my salty skin as I enjoyed the glorious flavours of these delicious dishes and wines was simply unforgettable.
Our tour guide had so many interesting facts to share with us about modern Mykonos and its colourful past.  Demetria is passionate and natural hostess.
Mykonos, with its undulating terrain, gave us the work-out we needed to burn off those extra calories.  We returned to our villa replete after such an energetic and stimulating day.
---
4. Sunset Watching
If you are looking for things to do in Mykonos, Greece that speak to the romantic within you, then Mykonos Cruising, Artemis Catamaran tour is the adventure for you.
Departing from the island at 3.30pm, you and a small group will sail by catamaran to the Southside of Mykonos or across to the islands of Delos or Rineia.  You will enjoy some swimming and snorkelling at uninhabited and pristine bays along the way.
As the sun slips in a golden haze beneath the horizon, you will dine on the catamaran with a gourmet Mediterranean dinner freshly prepared for you by the crew.  Sipping some rosé or a chilled beer, the gentle sway of the water and that magical hush that sweeps over the coast when the seabirds have all been tucked up for the night is really rather special. A lovely adventure to enjoy and one of the best things to do in Mykonos.
---
5. Partaaaaaaaaay!
Okay, enough with the smoochy, romantic night out.  If you booked a spree in Mykonos it's probably fair to say you are looking to dive into the party scene … well, at least for a night or two!
The most likely place for revellers to get the party started is Tropicana Club on Paradise Beach.  Styled as the Sexiest Beach Bar by the Travel Channel in 2012, this bar has its DJs cranking some red-hot hits from 4.30pm each day.  Everything you want from a beach party … thumping beats, cocktails, sexy beach clad revellers, dancing …. It's all happening and stays happening well into the early hours.
For a similar vibe but off the beach, you could try the Scandinavian Bar in downtown Mykonos.  More sweaty gyrating bodies, throwing themselves with hedonistic abandon into the holiday mood.  Steal away to the quiet terrace to grab a breather and enjoy the experience from a safe distance.  This is a well-known late-night spot that attracts young hipsters from around the island.  It is considered one of the best places to visit in Mykonos if you want to party hard.
For the ultimate clubbing experience though, you will need to go to Paradise Club.  With world-famous DJs flying into man the decks, this is Mykonos's answer to the Ibiza experience.
If you want to try one of the top social things to do in Mykonos, TripAdvisor recommends the 180 degrees Sunset Bar in Mykonos Castle as its No.1 choice.  It's a 20-minute walk (well, let's call it a mini-hike) up to the hill to Castle Panigirakis where you can enjoy delicious cocktails on a terrace that has a jaw-dropping view over Mykonos Town and harbour.  Mother nature provides the floor show as you watch the golden rays of sun stretch across the horizon and quietly slip beneath the sea.
Live music but not of the boom boom variety, makes this a really mellow place to wind down after a hectic day.  I recommend a pretty pair of flat shoes for the return ramble back to Town as it is downhill and your post-cocktail brakes might not be as efficient as you might hope!!
Interestingly, the Castle hosts yoga classes that run at sunset too.  That got scribbled into my little red book for my return visit to Mykonos.
---
6. Windsurfing
If you enjoy some windsurfing, then visiting the Island of the Winds is a good place to start!  Head to the north coast where consistent balmy winds will propel you over the water and give you a nice active morning on the waves.  Visit Ftelia Beach as it is the mecca for all wind-water activities.
The beaches along this coast like Ayios Sostis and Panormos are less hectic and a lovely destination, at high season, if you want to enjoy a quieter day at the beach.
---
7. Experience Traditional Greece
The village of Ano Mera maybe only 5 miles from Mykonos Town but is, in reality, an experience that is a world apart.  The locals of this village, second in size to Mykonos Town, conduct their lives in the traditional Greek way very much undisturbed by the tsunami of holiday revellers that occupy the main resorts.
When you have complete system overload from the party scene around Super Paradise beach then a 'pilgrimage' to the Panagia Tourliani Monastery near to Ano Mera is a speedy spiritual reboot.  Founded in 1580, this building houses a very large baroque altar screen painted in reds and greens and decorated with gold leaf flowers.
If you are on the island on August 15th, Ano Mera bursts into life as this annual religious festival attracts the locals decked out in their finery to celebrate the Christian feast of the Assumption.  There is a wonderful carnival atmosphere and it's lovely to see the Mykonos natives of all ages maintain a festival that has survived for centuries.
---
8. Visit the nearby island – Delos 
It might seem a little bizarre in a blog about the top things to do in Mykonos that I am recommending you jump on a boat to take the 30-minute trip to the neighbouring island of Delos.  But please let me assure you, it would be remiss of me not to suggest you do so.  It would be akin to you taking a trip to Paris and never seeing the Eiffel Tower.  As one of the most significant ancient sites in Greece, Delos is a tangible link between the ancient wonders of Greek civilisation and our present day.
This vast archaeological site, ranking up there with Pompeii on the Amalfi Coast (you can read more about Pompeii in my Best Things To Do In Positano article), offers visitors a spectacular walk along the streets of history – viewing the ancient temple constructed to honour Apollo who legend has it was born on this island along with his twin sister Artemis, the huntress.
The museum on Delos contains numerous artefacts of great archaeological importance with some large statuary still in position within the UNESCO protected site.  Even if you aren't the most enthusiastic relic hunter, you will really enjoy half a day on Delos.  The boat crossing to and from Mykonos is a lovely part of the visit and gives you a fabulous view of Mykonos from the water.
---
Why you Might Already Know something about Mykonos
You might find some of these Mykonos points of interest fascinating.  If you are a bit of a film buff, you will recall that Toula's family in My Big Fat Greek Wedding, all hail from this magical island.  Separately, the final scene in the first Bourne movie finds that Jason's girlfriend Marie has dropped off the grid and is running a scooter hire business on Mykonos.  So, if it's happy ever afters you are looking for or planning a wedding or perhaps hoping to disappear from your daily grind for a while, it seems that these or many other adventures might be some of the very best things to do in Mykonos!
Before we get onto the things to do and see in Mykonos, Greece, it might be nice to understand some of the key ingredients that go into making Mykonos such a fabulous destination.
Being an Island, on Mykonos beaches are never that far away.   You can enjoy over 25 pristine of them – ranging from the busy party atmosphere of Paradise Beach and Super Paradise Beach where summer revellers gather each day to recharge their batteries before another evening of partying. Conversely, the smaller and more family-friendly beaches of Ornos and Platys Gialos are gorgeous sandy refuges to spend a lovely day in and on the water.
For the more intrepid, the isolated beaches of Fokos or Lia are romantic and spiritual places to enjoy a castaway vibe and a pretty picnic away from the chatter of the bigger resorts.
---
Check out our guide on things to do in Halkidiki
---
If you are looking to explore more of Greece, we would highly recommend a trip to the stunning island of Santorini. A ferry will take just over 3 hours from Mykonos. Many of the luxury villas are situated along the caldera, offering breath-taking views. 
---
Conclusion
Whatever has captured your imagination about Mykonos and inspired you to visit this beautiful island, you will not be disappointed.
Many arrive for the vibrant party scene and discover beautiful quiet beaches away from the melting pot that is Mykonos Town.  Some, let's just say, more mature visitors who want to dip into Delos and the ancient past get swept up in some fun nightlife and discover their party days aren't quite over!
Anyone returning home after a trip to Mykonos always says, "Oh yes, I will definitely go back there". It is always on the repeat list as the island gifts visitors with such diverse experiences to appeal to all generations.  "Beware of Greeks bearing gifts", as the old saying goes …..?  I think not!
Mykonos is the gift that keeps on giving.
---
Contact Us
Feel free to leave a comment if you have more recommendations on the best things to do in Mykonos. 
If you would like us to look into villa rentals in Mykonos for your upcoming trip then you can email us at [email protected] or contact us here.