Mykonos, Island of the Winds, is a 33 square mile Greek paradise in the Aegean Sea.  93 miles east of Athens, this spectacular island boasts a mountain of over 1,100 feet that gives unparalleled views over the turquoise sea and beyond.
Enjoying a classic Mediterranean climate with over 300 days of sunshine each year, Mykonos is a temperate destination out of season and a gloriously warm and dry destination in high season. In Summer, there can be high temperatures of 40 degrees but the magical Meltemi breezes keep it at a bearable 28 degrees.  Winter months see the temperatures at around 15 degrees, with less wind but some rain. The nine villages along with the main town of Mykonos also known as Chora, are dotted around the island.  With Mykonos Airport only 4km from the main town and with excellent transport by car, taxi, bus or boat, getting to your accommodation will be a very stress-free experience.  I always stay in a Mykonos luxury villa rather than stay in a hotel.
Here is a list of some of my favourite things to do in Mykonos!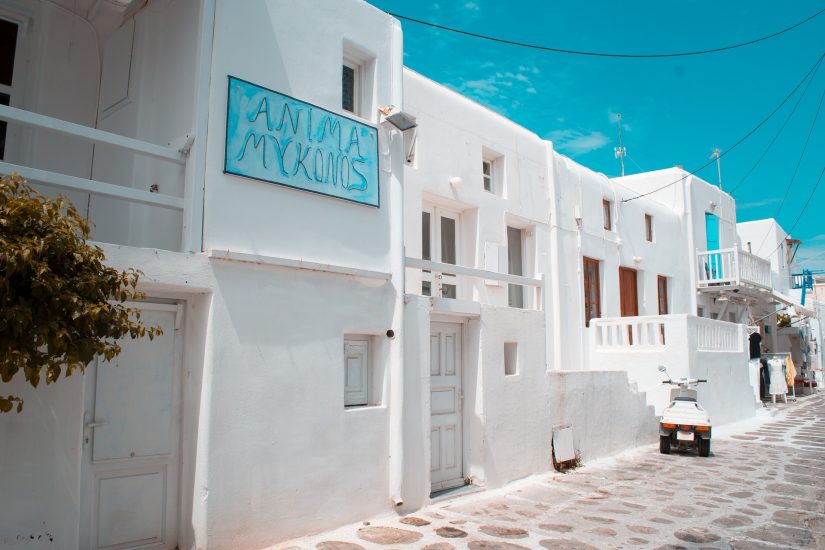 ---
---
1. Visit Little Venice
For centuries, Mykonos has experienced the influence of other European nations.  A very tangible emblem of one of the most significant periods of occupation is the thatched windmills built mainly in the 16th century by the Venetians who governed the island at that time.  The windmills were employed to mill local grain and were a vital part of the economic strength of the island. Although no longer serving this practical purpose, they are a dramatic feature dotting the Mykonos skyline.
Another legacy of this Venetian invasion is the area known as Little Venice on the southwest end of Mykonos harbour.  This locale has become a very pretty and chic place to visit.  The architecture sees typical white Greek houses with vibrantly coloured balconies that hang precariously over the water's edge.  A ramble through here during the day offers little art galleries, shops and cafes to make it an interesting place to visit.  At night, it is romantic and busy with some lovely places to grab a casual bite or a digestif.
---
2. Go on a Foodie Adventure!
The chefs in Mykonos have embraced the universal wisdom that the best ingredients take the shortest trip to get to the diners' plates. With a wealth of scrumptious ingredients harvested from land and sea, the Mykonos menu is as diverse as it is delicious.
A halo of culinary excellence can be found at a select number of restaurants on the island.
But if you have a Mykonos to-do list, with taste as the subject matter, let me suggest you put the divine restaurant M-eating, in Mykonos Town right at the top of your dining experience.  I might not be absolutely in love with the restaurant's name.  It seems somewhat misleading in terms of what is on offer.  However, put all of that aside and get ready for a mouth-watering experience in a tastefully designed traditional building with dining areas inside or some well-spaced tables on their terrace.
The dishes encompassing soups made with local organic vegetables, starters like a salad of melted pears, the ubiquitous Greek salad – the best you will ever taste – endless seafood offerings and of course the meats.  Lamb, pork, chicken all feature as well as quail and rabbit.
For those of you who scan the dessert section of a menu before you've decided on your main course, you won't be disappointed.  Walnuts, almonds, chocolate, fruits – all whipped into confections of pure bliss await your eager palette.  The food is prepared with imagination and presented beautifully.  For our group, it was the most relaxing evening, a leisurely feast of many courses accompanied by some excellent wines recommended to us by the lovely staff.
---
Local Tavernas
For a more budget-friendly dining experience, one of the Mykonos things to do must be to find a traditional taverna. For a unique and quirky experience coupled with delicious unadorned food, I recommend Kiki's Tavern perched above the beach at Agios Sostis.  The outdoor barbecue produces some of the freshest and tastiest plates of food.  With no electricity, you will enjoy the stripped back vibe of this wonderful, family-run taverna with lovely views from the veranda over the sea.  A feast for all the senses!
---
3. Active Relaxing
I don't know about you, but I really enjoy a bit of a workout when I'm on holiday.  Too much time on a lounger leaves me more than a little flat.  Consequently, one of the top things to do in Mykonos, Greece, if you want to burn off some of that delicious baklava, is to hop on one of Yummy Pedal's bikes and join a tour of the island.
About Mairead Moriarty
Born and raised in Co Kerry, lived in London, New York, San Francisco, Dublin. Owner of one very battered suitcase, a well-worn passport and a million memories.
It seems very fitting for a travel writer that my surname translates as 'Skilled Navigator'. Apart from an occasion when, aged 3, I got lost in a Supermarket in Tralee, I have managed to live up to my name!
Curiosity is probably the driver that has sent me on magical mystery tours around the world. I want to 'feel' a place. I want all my senses to be engaged: from the history and geography that has influenced a country or city, the arts and achievements of its natives, anything and everything really.
Regardless of whether I am on a local train travelling through Morocco, or poking around in Marconi's study in Bologna or on a canal boat weaving through the heart of the English countryside, the same rules apply - ask questions, talk to locals, eat what they eat, sit quietly with nature and simply be.
Assimilate as much as is possible so as to understand the soul of a place. That is my passion. That is the compass by which I navigate.