---
About Jumby Bay
Jumby Bay is one of the most exclusive private island resorts in the Caribbean. Set on  300-acres, Jumby Bay is nestled two miles off the coast of Antigua in Long Island.
The exclusive resort is a naturalist's haven noted for its lush landscape, stately palm trees and three superb, white sand beaches. A secluded hideaway accessible only by boat, the luxury resort is known worldwide for providing discerning travellers with world-class service and distinguished amenities.
Jumby Bay has one of the most wonderful climates in the Caribbean. Little rainfall and warm tropical breezes and trade winds and an average temperate of about 81°F make Jumby Bay a true paradise.
We provide exquisite luxury villas at Jumby Bay Resort on Long Island. Indulge your senses with morning sea breezes, stunning sunsets and unmatched views of crystal clear waters.  Some of the nicest beaches are located in The Caribbean and Long Island is top of the list.
We will be delighted to assist you in booking you vacation to Jumby Bay that will offer you the exceptional luxury and comfort that you so richly deserve.
---
Getting to Jumby Bay
Touching down in Antigua, guests are whisked away on a short private cruise to Long Island, home of the tropical haven of Jumby Bay, where sun-kissed days are enjoyed basking on one of the world's finest beaches. This corner of the Caribbean, where pure white sands embrace crystal clear waters, is also home to rare Spanish sheep, beautiful birds such as the white egret and blue pelican, nurse sharks, eagle rays and brilliant reef fish.
Jumby Bay provides transfers between the mainland airport and the resort. Upon arrival, a chauffeured private town car conveys guests on a three-minute drive to the resort's dock where they receive a warm Jumby Bay welcome from a resort representative. From this point guests needn't lift a finger - their baggage will be waiting for them in their guest room, suite, villa or estate home. With cool scented towels proffered by staff, guests can take a moment to refresh themselves after their journey and begin to unwind. Two experienced crew members will assist guests onto the resort's private catamaran for a seven-minute ride over to Jumby Bay through clear Caribbean waters.
Adults: $85 per person, roundtrip
Children 2-12 years old: $50 per child, roundtrip (for children under 2 years old the transfer is complimentary)
Airport transfer fees for guests arriving via private plane are available upon request.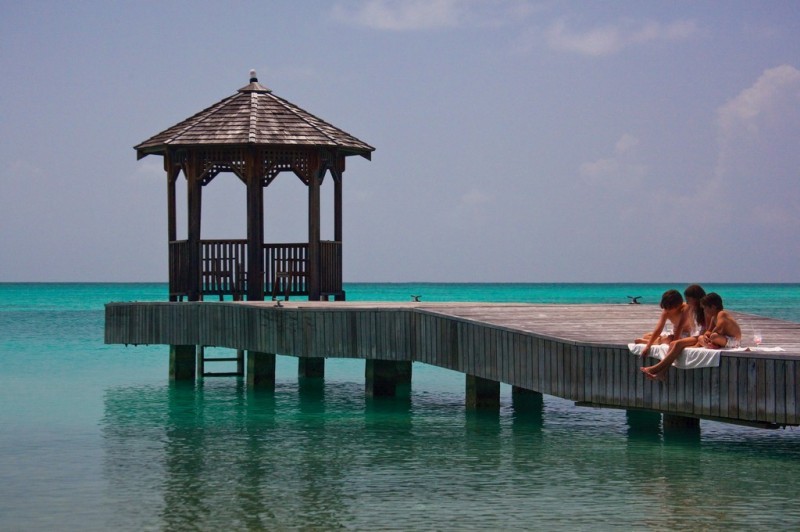 ---
Amenities
Jumby Bay Resort is a paradise in itself. The private island offers guest a choice of relaxation in the oceanfront infinity-edge pool & 25-meter freshwater lap pool or enjoy being pampered at the Sense Rosewood Spa. There are three beaches on the island each perfect for relaxing while laying under the sun.
For those looking for a more active holiday, the resort offers an abundance of activities for guests to enjoy. You can enjoy a game of tennis in the three tennis courts or receive a lesson from a tennis instructor. There is also golf available. Other leisure activities available include; a fitness centre, pilates, non-motorized water sports, snorkeling & guided snorkel tours, sun floats, sunfish sailboats & sail boarding, deep-sea fishing, Resort boutique, Scuba diving & instruction, Croquet & putting green
Guest can also enjoy luxury excursions such as Island tours, Day sailing, Day trips to nearby islands, sightseeing excursions on Antigua. Couples and honeymooners can enjoy a private beach dinner under the stars or a Sunset cocktail cruise. There are also trips to a casino night in Antigua which is a great night out.
Other Services on the island include laundry services and babysitting & nanny services.
---
Jumby Bay Beach
Jumby Bay Beach is one of the nicest beaches in the Caribbean. The pristine white sandy beach lay on the western side of the island at the edge of the gently lapping sapphire waters of the Caribbean Sea. Lined by palm trees and cushioned chaises beneath thatched-roofed bohios under which beach goers can escape the sun, and hammocks strung between palm trees, it is a stage set for hours of unrepentant relaxation while gazing out to sea to mainland Antigua on the horizon.
The Beach Bar, a traditional open bungalow located midway down the shoreline, is the center of the resort's casual luxury beach service. Here guests find cocktails, cold water and fresh towels at the ready. Not inclined to shift from your chosen island perch? A raised hand brings a frosty glass of water, delicious daiquiri or tray bearing a selection of freshly made fruit sorbet.
Pasture Bay Beach
On the island's Atlantic side, the beach at Pasture Bay is Jumby Bay's most isolated. This undeveloped beach is a natural preserve for the endangered Hawksbill Turtle as well as a haven for sunbathers and those seeking romantic seclusion.
Private picnics on Pasture Beach are easily arranged with a call to the resort's concierge. Cold poached salmon, heirloom tomato salad, fresh almond cookies and champagne perhaps? No matter the request, guests will find a hamper packed with their selections waiting at the beach upon their arrival.
Pools at Jumby Bay
The pools of Jumby Bay are a sparkling oasis of cool, refreshing enjoyment. Guests of Jumby Bay have access to pools for both swimming and lounging. Pool attendants see to every need, from providing sun block and the latest novels to read to refreshing Jumby Bay amenities such as chilled towels, iced fruit and delicious homemade sorbet. For soothing sounds, iPods are offered poolside, pre-loaded with music.
Verandah Pool
The Verandah Pool is the perfect place for guests to dive into a carefree day of relaxation or recreation. This 82-foot (25-metre) pool has four lap lanes and is surrounded by cabanas with comfortable chaise lounges. Friendly poolside food and drink service, aqua fitness classes and poolside reflexology are offered. Available in 15- or 30-minute sessions, this spa-like indulgence is the perfect way to get into a relaxed mindset for enjoying a day by the pool.
Oceanfront Infinity Pool
Located at the end of Jumby Bay Beach, the resort's newest pool exudes tranquillity and sophisticated outdoor relaxation. With its infinity edge, this lagoon-shaped pool gives the illusion of blending with the ocean. The oceanfront environment is ideal for uninterrupted sunbathing, enjoying a delicious lunch at The Pool Grille or a quick catnap in the Caribbean sun.
---
Dining
There is a great selection of dining options available for our guest at Jumby Bay.
Verandah Restaurant & Bar The Verandah Restaurant offers toes-in-the-sand elegance with a taste of light European food reminiscent of coastal France. The dining area is located next to the ocean offering cool breeze and stunning sea views for diners. The Verandah restaurant ensures that they use local produce local to the beautiful island when preparing their dishes. Highlights include freshly caught seafood, hearth baked specialties, grilled lobsters, select prime and aged steaks, rotisserie chicken and spectacularly light desserts featuring local fruits. With an emphasis on seafood and steaks, market fresh ingredients approached with simplicity are at the heart the cuisine at the open-air Verandah Restaurant. Stylish without being pretentious, this is the sun-filled setting for daily breakfast, lunch and dinner. The Kitchen at Verandah Restaurant & Bar provides a unique experience for up to eight guests, for private dining at a secluded Chef's Table.
The Pool Grille A brasserie offering guest stunning views of the infinity pool and Caribbean Sea, The Pool Grille offers an atmosphere equaled only by its delectable breakfast and menus. Each morning, continental breakfast is served al fresco on the terrace. At lunch, a menu of casual favorites from salads to hamburgers to grilled seafood is accompanied by creative cocktails. By night, savor a variety of inspired choices presented family-style in a decidedly relaxed but stylish atmosphere (evening dining seasonal).
The Estate House The Estate House offers Mediterranean fine dining located right at the edge of the sea, the Estate House, built circa-1830, was the centerpiece of the island sugar plantation. A classic colonial structure, the white, two-story façade features twin exterior stone staircases lined with wood balustrades topped with carved pineapple finials and has become Jumby Bay's evening playground.
The Beach Bar This convenient bar is located midway down Jumby Bay Beach.
---
History of Jumby Bay
The earliest inhabitants of Jumby Bay Island were South American Indians, beginning with the Siboney who arrived here about 1775 BC. Most came to the island to mine flint, which was exported to other islands. Around 50 AD, the Arawaks arrived to Jumby Bay but were in turn displaced by the Caribs, an Indian tribe that continued to raid the island until 1674, at which time English settlers had replaced the Spaniards who colonized the island in the 1500s.
The first European to discover the island was Christopher Columbus, an Italian sailing under Spanish colors in 1493. King Charles I granted Jumby Bay Island to Earl of Carlisle, the first recorded owner in 1627. In 1835 a Mr. Jarvis (owner of Jumby Bay at that time) rented the island to emancipated slaves who grew provisions to sell on Antigua. In 1935 an heir to the property used Jumby Bay to raise sheep. These sheep were descendants from those brought to the island by Spanish settlers who lived on the island in the 16th Century. The wild sheep seen roaming on Jumby Bay today are descendants of those sheep.
Jumby Bay was uninhabited for more than four decades before work began in the 1980s. In 1983 Jumby Bay opened as a private resort. Rosewood Hotels & Resorts assumed management of the resort in April 2002.
---
Wildlife
Nature abounds on Jumby Bay Island. During your stay with us, you may observe a variety of bird life, including our mascot, the White Egret, the playful Bananaquit and nature's marvel, the Blue Pelican.
Pasture Bay Beach is one of the world's principal nesting sites for the endangered Hawksbill Sea Turtle (July through November). Jumby Bay homeowners have set aside prime beachfront to ensure the continued protection of the nesting site for the turtle whose ancestors have inhabited the area's waters since the Age of Dinosaurs.
During November, the harmless Nurse Shark uses the shallow waters off Pasture Bay Beach as a mating ground, coming into shore just shy of the beach following age-old instincts. This, combined with the presence of Eagle Rays, schooling fish and an abundance of reef fish make the waters surrounding Jumby Bay a haven for snorkelers.