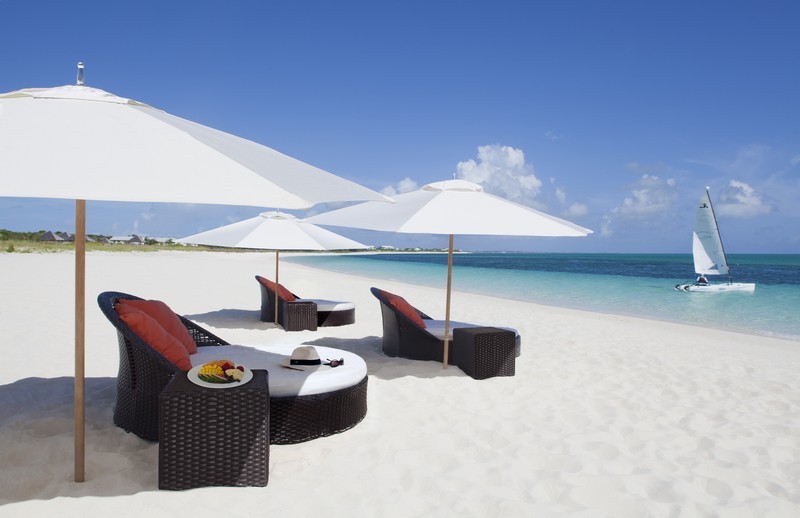 For exquisite turquoise waters, explore Chalk Sound National Park. This 5km long bay by Providenciales has several tiny islets and has some of the clearest blue water on the island.
Grace Bay is a stupendously beautiful bay which curls along the north shore of Providenciales for 12 miles (19 km) and is lined with powdery white sands. It offers some of the best snorkelling spots on the island as well as some of the most exclusive vacation rentals in Turks and Caicos.
The nearby, sparsely populated islands of North and Middle Caicos can be explored through a scenic drive with short stops made to admire the views. You will have an opportunity to meet the local people and soak up the culture and atmosphere of island life.
Practice yoga at Parrot Cay, an award winning Shambhala retreat designed to improve health and well being. After a morning's yoga workshop, relax in one of the Japanese baths.
Cottage pond is a large pool of tropical vegetation that contains one of the most impressive subterranean waterways found so far.
Flamingo Pond Nature Reserve is home to a large sanctuary of West Indian Flamingos, this is an area where planes are prohibited from flying and boats are not allowed to dock in order to avoid disturbing the flourishing flock.
For diving enthusiasts, head to the Northwest point on Providenciales for a brilliant dive site, where you can spot eels and many other fish.
Explore the northern shores of the Turks and Caicos Islands by Kayak, encircling its islets in safe, clear waters. Journey to Salt Cay, a tiny island south of Grand Turk. Salt Cay is part of the Humpback whales winter migratory route.

It is certainly worth considering visits to other islands in the Turks and Caicos chain during your stay on any one of the Turks and Caicos Islands. Many of the islands have an incredible range of habitats and wildlife giving you a wonderful and very unique experience. Because all the islands are very close together, you can easily visit several of the islands on day trips. Our concierge at Exceptional Villas will be delighted to assist with recommendations on these and also help to organise them for you.

Iguana Island

The nature reserve of Little Water Cay is home to the Turks and Caicos' famous Rock Iguanas. Iguana Island is the only place in the world where you will find this harmless reptile, yet here they thrive in their thousands. The largest of these Iguanas are an impressive 2ft long and are striking creatures, making them the islands' largest native land animal. There are several especially constructed viewing points and boardwalks which allow visitors the opportunity to experience the habitat of the iguana without disturbing their natural environment. After a visit to the nature reserve, a cooling dip can be arranged to discover the colourful flora and fauna beneath the water followed by lunch on a deserted beach.

North Caicos

North Caicos is the closest of the bigger islands to Parrot Cay and Providenciales and it is also the most beautiful of all the islands. North Caicos is the most fertile and has lots of dense and lush vegetation hence its nick name - the garden island. North Caicos has a resident population of only 1500 and is a relaxing and intriguing place to visit. Because of the fertility of its soil, North Caicos was a successful cotton plantation island in previous times. A visit to Wades Green Plantation is worthwhile where you will get a flavour of this period in history. There are many beautiful white sandy beaches on North Caicos but the best is Whitby Beach which has an ultra white sandy beach and beautiful crystal clear waters. It is possible to find conch shells of every size at Pelican Point Beach in Whitby, and Horse stable Beach is a prime bird watching site. Many choose to have lunch at the home of a local matriarch in the nearby village of Kew.

Middle Caicos

Middle Caicos is the largest of the islands within Turks and Caicos and also has the least number of people with a tiny population of just 300. The north coast is dramatically beautiful with rugged cliffs and beautiful bays. Mudjin Bay is a huge natural amphitheatre, carved from the limestone, and a spectacular stopping point. Bambarra is a picturesque village and the beach offers superb snorkelling. Bambarra also hosts the annual Valentine's Day cup, a sailing boat race using scale models hand crafted by local artisans. A great way to explore the island is by bike, following the mountain trails. The route follows a rugged road through the hills and pine lands to the south and then loops back along an easier coastal route to the north. This energetic adventure covers approximately 24 kilometres and is a full day excursion.

East Caicos

East Caicos is one of the least visited islands and is uninhabited. Its 29 square kilometres is largely covered in swamps and mangroves. However, there is a splendid 27-kilometre beach on the north of the island used mainly by sea turtles to lay their eggs. Near Jacksonville on the Northwest of the island there is a series of caves which show evidence of the early settlers here.

Joe Grant's Cay

Joe Grant's Cay is a beautiful, virtually deserted island which lies between Middle and East Caicos on the eastern side of the passage known as Windward-Going-Through. It is remote, rarely visited and pristine with a perfect sheltered harbour on the leeward side and a spectacular beach on the windward side. It is great if you fell like experiencing a Robinson Crusoe type experience.

Providenciales

Providenciales is the most developed of the Turks and Caicos Islands. It is here that one will find everything from superb natural scenery and wildlife to a world-class, professionally-designed golf course. Grace Bay is an exceptionally beautiful bay which curls along the north shore of Providenciales for 12 miles (19 km) and is lined with powdery white sands. It offers some of the best snorkelling spots on the island as well as some of the most exclusive vacation rentals in Turks and Caicos.