---
Hiking
Many of the trails in Antigua are not fully developed but lead to interesting sites and natural wonders. There is a very nice trail in the English Harbor area that leads from Nelson's Dockyard to Fort Barrington and up to Shirley Heights. Another trail starts from the Half Moon Bay National Park and leads to the promontory looking out to the neighboring island of Guadeloupe. Lastly there are some really good trails through the beautiful rain forest starting at Wallings Dam and going up to the Boggy Peak which is the highest point on the island.
---
Golf
There are two 18 hole golf courses on the Island which take advantage of the tropical landscapes and sea views. Cedar Valley Golf Club is located in the Northern part of Antigua. Jolly Harbor Golf Course which is located in the Jolly Harbor Marina.
---
Rain Forest and Zipline Tours
The Antigua Rainforest Canopy Tour is a fun exhilarating experience. It starts high above the rain forest canopy and zooms down to the Leap of Faith which is a jump similar to bungee jumping but safer. There are excellent guides available and state of the art harnesses and helmets are provided.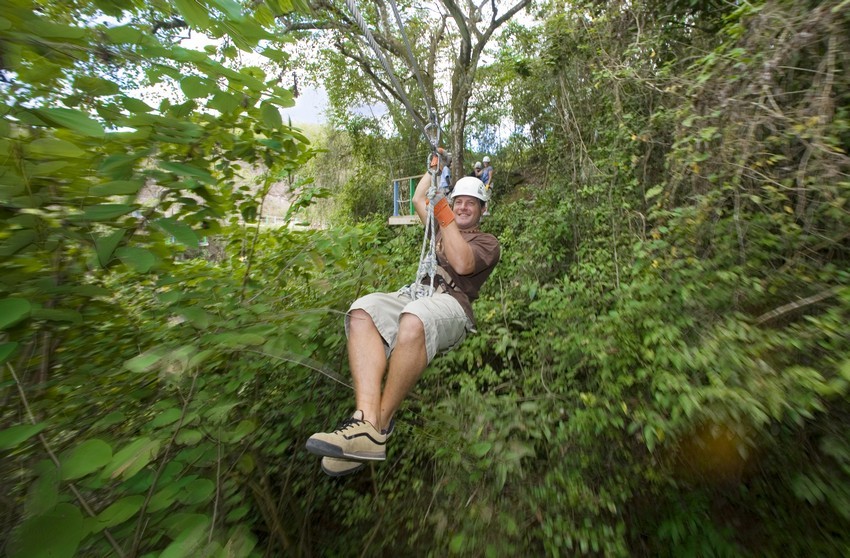 ---
4x4 Tours
The interior of Antigua is hilly and dotted with historical ruins and small villages. Several companies offer tours to this unexplored part of Antigua. Tropical Adventures combine inland safaris in open jeeps with kayaking or a visit to stingray City Antigua. Happy Trails Tours use off road vehicles with air conditioning that add a touch of comfort to your journey. Quad bikes are also available to rent from some operators.
---
Sailing
Antigua is famous for its sailing history and one of the best ways to explore Antigua by sea is either by sail boat or by catamaran. Antigua is an island of deep bay and harbors sitting between the wild and windy Atlantic Ocean and the more serene Caribbean side making it a yachter's paradise. There are many international sailing events and regattas the most famous of these being the Stanford Sailing week at the end of April.
For the more casual sailor, you can choose between a party boat, an educational trip, or a pirate cruise on a beautifully restored schooner.
If you want to enjoy the ultimate sailing experience we would highly recommend our sailing partners Catch the Cat Private Sailing Charters in Antigua. www.catchthecatantigua.com Catch the Cat provides luxury private charters, lunch cruises, day sails and sunset cruises. The choice is endless. You can contact Noreen our concierge to reserve today.
Fishing Charters are also a popular activity in Antigua. Guests can enjoy a memorable experience sports fishing in the Caribbean. We would recommend our partners 'Fishing Antigua' if you would like to enjoy deep sea fishing, bottom fishing or a catamaran charter. You can check out their website for more details. www.fishingantigua.com If you would like to book a fishing charter in Antigua you can contact our concierge specialist Noreen.
---
Diving and Snorkelling
The sheltered western and southern coasts are the primary diving areas. Among the best sites are Cades Reef, the pinnacles of Hercules Big John Reef and Fryes Shoal. There are many PADI certified operators with custom designed dive boats and equipment. Operators include Sea Wolf Diving School, Dive Antigua, Jolly Dive and Indigo Divers.